Coronavirus has had a major impact on the global economy and led to volatility in stock markets across the world.
It can be unnerving to see the value of your investments fall and you may be wondering what to do next. Find guidance on things to keep in mind when markets fall.
A lesson from history?
There have been a number of market shocks over the years. This graph shows some of the more memorable events since 'Black Monday' in 1987, the impact each had on the UK stock market and the length of time it took markets to recover.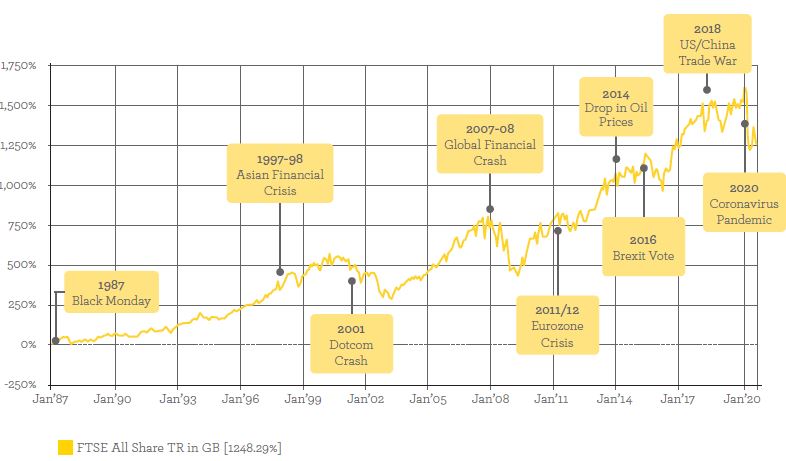 FTSE All Share TR in GB 01/01/87 to 31/07/20 – Pricing spread Bid to Bid Source: FE Fundinfo 2020
31/7/2019 to 31/7/2020
31/7/2018 to 31/7/2019

31/7/2017
to 31/7/2018

31/7/2016 to 31/7/2017
31/7/2015 to 31/7/2016
FTSE All share Index
-17.8%
1.3%
9.2%
14.9%
3.8%
Discrete annualised performance. Bid to bid, income reinvested. Source: FE Analytics, August 2020
Black Monday 1987: Black Monday in October 1987 led to a 20% fall in the UK stock market over a short period.
Global financial crisis 2008: Concerns over the global banking system required financial interventions from Governments similar to those we are seeing at the moment, leading to significant market falls
Brexit: The vote to leave the European Union and specific updates on negotiations caused dramatic reaction from UK markets.
Market shocks are often triggered by specific events and the uncertainty they create. Once the situation becomes more certain, confidence often returns and markets may recover.
It's important to remember, the value of investments can fall and you may get back less than invested.