Presenting a snapshot of how the food manufacturing sector is being impacted by food hygiene and the Food Hygiene ratings system, based on the findings from our 2019 report "A fresh look at Food Hygiene"
Foreword
"It's an exciting time for the food manufacturing industry. Change is in the air and with that comes many challenges. Customers are crying out for innovation; the desire for provenance, and using top ingredients is becoming more important, and ensuring the food served is ethically sourced, safely stored and hygienically handled can leave a company's reputation at tipping point."
Darren Seward, Food & Drink Manufacturing Specialist at NFU Mutual
A unique perspective
At NFU Mutual we're uniquely placed to analyse the food market and food hygiene in particular. We insure three quarters of the UK's farms and thousands of manufacturing, hospitality and retail businesses that supply the food we eat from 'field to fork'.

In February 2017 we published our first Food Hygiene Ratings Report which looked at what the Food Standards Agency's (FSA) ratings meant to the public and their impact on businesses. To update the picture, we commissioned a new report in 2019 surveying a demographically representative sample of over 2,000 people across the UK. We then assessed these findings in conjunction with the FSA food hygiene tool to better understand the country's current attitudes and spending patterns.
Food manufacturing: an industry snapshot
The research took place against a somewhat complex background for the industry. Recent news stories such as the cross-contamination tragedies at Byron Burger and Pret-a-Manger have raised public awareness on food hygiene and safety, yet new legislation to make rating stickers mandatory in England has still to be implemented. Local authorities are responsible for their own ratings, but funding cuts have resulted in fewer inspections, making it difficult for businesses to challenge their score. There have also been questions raised about consistency between different regions, which has the potential for unfair FSA ratings.
NFU Mutual Research 2019
Current attitudes
More and more manufacturers are selling direct to the public yet our research shows that the public don't strongly associate food hygiene compliance with the manufacturing sector and only a small percentage (7%) of customers look for ratings at these outlets.
Which types of business would you expect to be required by law to hold a food hygiene rating?
| | |
| --- | --- |
| Restaurants, pubs, cafés | 77% |
| Takeaway, fast food | 76% |
| Hotels, B&Bs | 72% |
| Bakeries, butchers, delis, grocers | 63% |
| Food producers | 57% |
| Supermarkets | 46% |
| Distributors, transporters | 38% |
| Farmers, growers | 24% |
| Importers, exporters | 21% |
| Newsagents, convenience stores | 19% |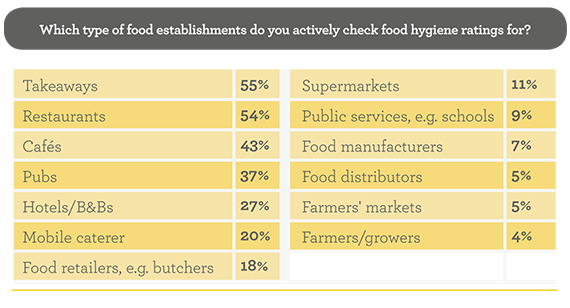 In Wales, manufacturers are already forced to display a food hygiene rating even if they don't sell directly to the public, and it is highly likely that the rest of the UK will follow suit.

Should the display of ratings become law, the 34% of manufacturers in the UK who don't have a 5 rating could face their standards exposed and a sudden loss of consumer trust.

Product recalls suffered by producers are becoming more of an issue with traceability of food becoming trickier to manage and consumers becoming more aware of the potential dangers of food through the media. As public awareness grows, the consequences can impact the reputation of any business.
Change in buying behaviour
Consumers were asked if hearing about hygiene and recall issues had changed the way they buy food from different sectors.

41% of customers said food hygiene did affect how they bought food from shops, with 22% taking more time to look at the labels.

Although not as high as the 55% in hospitality, the finding shows manufacturers and retailers can't afford to be complacent.
Conclusion
There is an unarguable link between the effect that a rating has on customers and how this impacts profit. Hygiene ratings can directly hinder your financial performance in what is a very competitive marketplace. With margins being so tight, there is little doubt that every business owner in the food manufacturing sector should make their hygiene rating a priority.

To find out how NFU Mutual can support your manufacturing business, please contact your local NFU Mutual office. You can download the full report 'A fresh look at Food Hygiene' here.