Local insurance and financial services provider, NFU Mutual Wessex, is pleased to announce its new 3 year sponsorship of the Salisbury RFC Junior (under 14s, 15s, 16s) and Colts teams starting in September 2019.
With offices in Salisbury and Wareham, NFU Mutual Wessex is delighted to sponsor this local club. Their sponsorship of SRFC will help support the purchase of new match day kits for the Junior and Colts teams.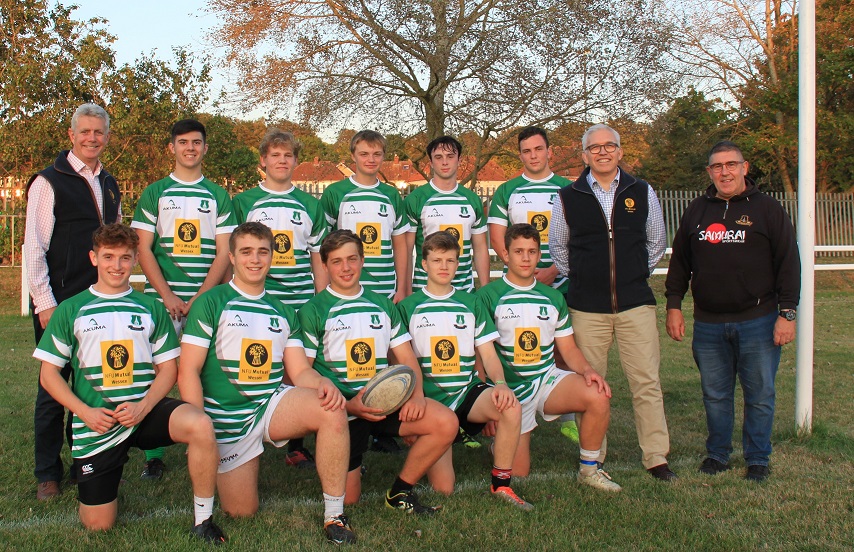 Salisbury RFC Director of Youth Rugby Steve Allen (far right) and members of the Colts squad with NFU Mutual Wessex Agents Steven Bartlett (left) and Simon Hedges
Salisbury RFC is a thriving Rugby Club with over a thousand members. For over 100 years the club has provided rugby and social opportunities for the people of Salisbury and the surrounding areas.
The youth section has an impressive track record of producing international players such as Richard Hill (England, World Cup winner, British & Irish Lion), Poppy Cleall (Current England Ladies no. 8) and Mike Brown (England Full Back). In March 2019, both Josh Gray and Xavier Hastings were selected for England U18 in the Six Nations match against Scotland. They also both played junior rugby for Salisbury and both were in the team that won the U14 Dorset & Wilts Cup in 2015.
Director of Youth Rugby at Salisbury RFC, Steve Allen, said: "Nearly 400 junior boys and girls aged from 6 to 18 train and play regularly at the club, developing a love for team sport, staying active, having fun and making friends for life. We are delighted that NFU Mutual has chosen to sponsor our Junior and Colt teams, to help the purchase of their match day kit, and support the continuing development of youth teams within the club."
Agent at NFU Mutual Wessex, Simon Hedges, has a long association with Salisbury RFC. Commenting on the sponsorship, Simon said: "NFU Mutual Wessex has been sponsors of Salisbury RFC for many years, and looked after the insurance needs of many people in the local area. We are delighted to extend the sponsorship to further support the Club's ongoing ambitions to develop youth rugby in and around Salisbury."
For more information on the range of NFU Mutual Wessex insurance and financial services please feel free to contact either the Salisbury or Wareham office of the Wessex agency:
Salisbury 01722 331062
Salisbury_agency@nfumutual.co.uk
www.nfumutual.co.uk/salisbury
Wareham 01929 553472
Wareham_agency@nfumutual.co.uk
www.nfumutual.co.uk/wareham