NFU Mutual Food Hygiene Ratings Report shows that food establishments should embrace hygiene ratings.
View the key findings in our infographic
When running a food business, the response to a suggestion that your hygiene inspection ratings should be displayed by law may well be an emphatic no for many that are struggling to reach the top grades.
However, it's a proposal that is gaining weight. Eateries in Wales and Northern Ireland already have to display their food hygiene rating on their front doors and there are calls for legislation to be introduced which would make the signs mandatory in England and Scotland.
While the last thing most business owners want is more rules and red tape, this surprisingly may be a move which hotels, restaurants, shops and takeaways could turn into a business advantage.
How? Today's hospitality businesses are at the mercy of all kinds of ratings, including those posted on social media and review sites like TripAdvisor. Hugely popular, these consumer-driven networks are unregulated – which makes it very difficult if not impossible to get unfair or inaccurate posts amended or removed.
Local authority food hygiene ratings aim to be a more objective, official measure of the state of an establishment - including behind the scenes. They are - in theory at least - free from bias, and importantly, they can be challenged if a business owner thinks they have been rated unfairly.
So it makes good sense for businesses to embrace food hygiene ratings, using them as proof of their good management and high standards. There's no doubt that members of the public put a huge amount of faith in the ratings, as our Food Hygiene Ratings Report, published at the beginning of February 2017 has demonstrated. So much so that only one in 20 people would not be influenced by food hygiene ratings.
The report found that almost half of people (44%) would turn away from a food outlet that had a food hygiene rating of 3 (generally satisfactory) or less on display - even if it was their personal favourite.
The Food Standards Agency ratings range from 0 (urgent improvement necessary) to 5 (very good) and are awarded following inspections which consider factors including how hygienically the food is handled, how clean the premises are and what food safety procedures are followed.
NFU Mutual's report also reveals that almost one in seven UK food businesses (excluding in Scotland where a different scheme is used) are currently rated between 0 and 3 – that's a staggering 65,000 pubs, restaurants, cafes and supermarkets that could be affected.
It's a clear message: consumers are increasingly expecting high standards from the food establishments they frequent. The onus is on owners and managers to make sure their standards are reflected in good ratings.
Getting to the magic 5 stars isn't easy. It requires good management, training and scrupulous attention to detail. Partners such as your business suppliers can help you get there – and at NFU Mutual we are committed to working closely with our policyholders to help them run their businesses effectively by sharing our expertise and experience gained from insuring similar businesses. A snippet of this expertise can be found in our Food Hygiene Ratings Report with advice to help you on your way to a good rating.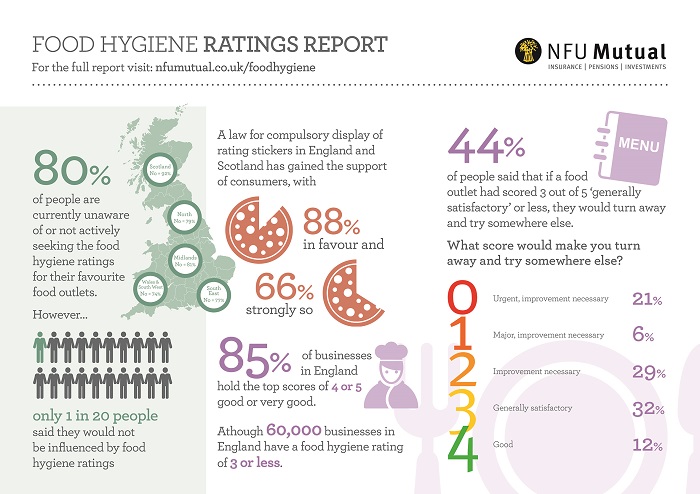 Get your free PDF copy of the Food Hygiene Ratings Report.
Darren Seward is an NFU Mutual insurance specialist for the hospitality industry.