Christmas shoppers seek comfort and joy from independent retailers
Nine out of ten shoppers say 'friendly service' is a key benefit of shopping with local independents
Nearly a third (31%) of shoppers are using local independent retailers more than before the pandemic
Forty-two percent want to help smaller businesses that may be struggling because of Covid
Nearly two thirds (64%) prefer shopping with a retailer that specialises in a particular product area
NFU Mutual Retail Specialist encourages shoppers to consider supporting local independents this Christmas.
Starved of friendly contact after months of pandemic isolation, 90% of shoppers are craving the friendly service of local independent retailers, according to research released today by commercial insurer NFU Mutual.
The research reveals that nearly a third (31%) are shopping with local independents more than before the pandemic, with 42% saying they want to support smaller businesses that may be struggling because of Coronavirus.
For nearly two thirds (64%) of shoppers, wanting to buy products from a specialist provider is also a key reason to seek out an independent store.
Anne Clarke, Business Development Manager at NFU Mutual in Haywards Heath, said: "It's great to see that so many people love the friendly service that local shops provide.
"After a challenging Christmas for us all last year, a friendly shopping experience is what we're all craving this festive season. With the pandemic driving up feelings of loneliness, independent local retailers are in a position to help our communities feel connected again.
"Survey respondents told us that genuine conversations, a more personal experience, building close relationships with staff and having a friendly catch up whenever they visit where all aspects of shopping locally that they valued. Others said visiting a local independent retailer gave them an opportunity to catch up with neighbours and friends whilst shopping."
Farm shops have also enjoyed success over the pandemic, with 73% of people wanting to continue to support or use farm shops even more this Christmas. The main reason for doing so was to support local businesses and the economy over winter.
Rebecca Davidson, Rural Affairs Specialist at NFU Mutual, said: "Christmas is all about spreading good cheer and farm shops provide that in abundance with friendly service, great locally grown produce and a relaxed atmosphere.
"It's great to see so many people planning to use farm shops this Christmas after the huge amount of work they put in to stay open and rose to the challenge of massive demand through the pandemic lockdowns.
"People also rated the quality of goods on offer with 70% believing farm shops offer better, fresher produce and two thirds valuing the environmental benefits of sustainably produced goods with lower food miles."
Anne Clarke added: "Independent businesses are the fabric of our towns and villages and offer our communities a wealth of benefits. With many of these businesses having something truly special to offer their community, we're encouraging consumers to consider shopping with local independent retailers this Christmas and beyond."
Sussex Christmas Barn and Trug and Trowel, are just two of the many shops helping to make this Christmas special.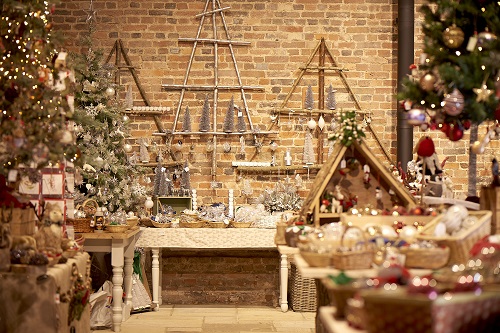 Trug and Trowel case study
Using foraged foliage, flowers and wild grasses from the family dairy farm in Sussex, Laura Russell creates unique seasonal decorations, selling her items online and locally from her business 'Trug and Trowel'.
Before the pandemic, Laura specialised in chutneys and jams, and her products were stocked in local farm shops and used by restaurants. As lockdown brought more time on the farm with her husband and three sons, Laura decided to take the opportunity to develop her passion for wreath making into a new business venture.
"A combination of social media and word of mouth recommendations really helped the business take off – both locally and further afield.
"The real pull is the uniqueness of the items, and people are fascinated by the story behind the business. Not many wreath makers have the kind of access to the natural beauty of the countryside that I have on the farm. It's a real team effort too, my husband often brings foliage back from his day out on the farm if there's something particular I'm looking for, or if he sees something he thinks I'd be interested in.
"The nature of the business means that my products really change with the seasons, and I've built a base of loyal local customers that make repeat purchases as the seasons change.
"I also get requests for bespoke items. I love that people trust me enough to ring and say that they need something for a special occasion and leave the rest to me. It gives me the chance to offer the kind of original creativity that only an independent retailer can provide.
Laura is also offering wreath making classes from her workshop this Christmas.
"The sessions are quite exclusive – the workshop only allows room for four people, so sessions are tailored to requirements of individual groups, with attendees getting the attention they need to create something really special to them. They attract mostly local people, who want a creative seasonal activity within travelling distance. It's great to have the opportunity to spread some Christmas cheer in the community."
Commenting on the 'snowball effect' of a small business which is quickly gathering pace, Laura said: "As your venture grows you quickly realise the need to be dynamic. Requirements change as you shift from hobby to business and I've had lots of support from friends as I discovered the need to turn my hand to things like pricing and sourcing materials.
"Local people are an extension of that support network. By relying on a small independent retailer, you could be giving them the boost they need to continue offering consumers something different and special."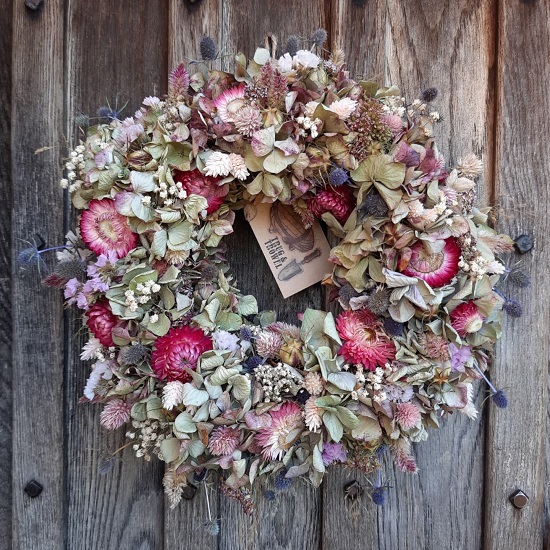 Sussex Christmas Barn case study
Wanting to protect the long-term viability of the Newick and Sutton Hall Estates in Barcombe, East Sussex, estate manager Ruth Wallis, along with owner John Sclater and farm manager James Wallis, decided to diversify.
They planted their first Christmas trees in 2017 and renovated a red brick barn to sell Christmas trees directly on-site, as well as opening a café to create an all-round experience for visitors.
"The barn is beautiful inside," says Ruth, "everything looks so Christmassy. It's a really special venue and many locals find an annual visit a great way to mark the start of the festive season. The general public don't often get to access farm buildings, so the setting itself adds to the shopping experience."
The trees, when mature, will be sold wholesale and via a marketing group set up with other landowners and farmers who grow Christmas Trees from across the UK. This group is known as Infinity Christmas Trees, Ruth explains:
"Selling our Christmas trees wholesale will be a key market for us. Infinity Christmas trees aim to sell trees produced regionally to local garden centres farm shops etc. By offering businesses a local supply, we can help them lower 'tree miles', lessening the environmental impact of their stock.
"The Christmas shop opens annually from around 1st November to Dec 23rd. Alongside the trees, the main draw is our large collection of Christmas decorations."
"The range we have on offer sometimes draws Christmas enthusiasts from further afield. Just last week we had a couple from Bexhill who contacted in advance of their visit as they had a vulnerable child and had been isolating due to covid. They had not been out at all. We stayed open for them to give them the time and quiet to choose their decorations in a safe environment. This is the kind of special attention that only small independent retailers can offer."
Most of the shop's customers are local and Ruth explains how opening the shop has helped the estate to develop its relationship with the local community:
"As well as welcoming a strong base of local customers, we're also delighted to stock items from a number of local businesses. We have some really special items you wouldn't find in larger stores. Highlights include jams and chutneys from Ouse Valley Foods, wreathes from Fern Cottage Floristry and locally crafted wooden reindeer and snowman figurines from Rustic Tim & Sons.
"We also try to rely on local suppliers – our signs and banners are locally sourced, and our website and social media pages are managed by local experts. All our in-shop staff also live locally. It's great to be able to offer employment to people in our community."