It's our job to help ensure your home and most valuable possessions are protected.
There is no place like home, that's why our Home and Lifestyle Insurance provides one of the most comprehensive policies in the market, as indicated by a Defaqto 5 Star Rating.
Providing cover for contents up to £100,000 with alternative accommodation cover and personal legal expenses included as standard, Home and Lifestyle Insurance is more than just cover for buildings and contents.
Whatever you are looking to protect you can rely on us.
We recognise loyalty through Mutual Bonus - money off your premium at renewal
We pay out on 98% of claims with a quibble approach*
No admin fees for changes to your policy and no charges on Direct Debit
UK- based call centre and 300 offices offering a local personal service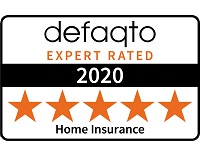 Cover for what matters most, as standard
Alternative accommodation cover - we'll pay the cost of alternative accommodation for you, your family, and domestic pets, if your home can't be lived in, up to £75,000 or 25% of the insured rebuild cost, whichever is more
Personal legal expenses up to £50,000 to provide you or your family living at home with advice and help with the cost of legal representation - including a 24 hour advice helpline.
3 year warranty against the quality of workmanship for building repair works to insured damage carried out by our approved contractors**
Automatic increase of your contents sum insured by 10% or £5,000, whichever is the most, a month before and a month after a special event such as Easter or Christmas
Up to £10,000 towards finding the source of leaking water or oil used in central heating
Damage to contents in your garden up to £5,000. Trees, shrubs and plants up to £2,000 in total and up to £250 for any single item.