Business Protection
Preparing your business for a fire risk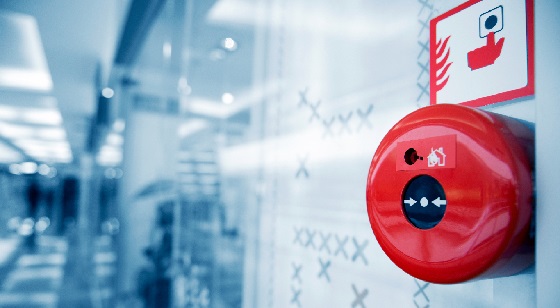 When approaching resilience and business continuity planning, fire and explosions are often the key risks to businesses who rely on infrastructure.
The continuity risk to businesses is self-evident; a relatively small fire can slow production and damage stock, potentially suspending or slowing activities for days or weeks as equipment is repaired and cleaned.  Take things up a level and an explosion or major fire could deprive you of your premises, equipment, and stock, traumatising staff and leaving you unable to satisfy customer demand for months to come.
We have partnered with Inoni, business continuity experts, for a series of articles on business risk and continuity planning aimed at small to medium sized businesses, including how to prepare your business for a fire risk.
Is it a risk for my business?
Most fires historically are in the retail, industrial and hospitality sectors, with several retailers experiencing newsworthy fires in recent times.  Few, if any, organisations are truly exempt from fire risk and legally, none can ignore it. 
You can assess your organisation's fire risk from a continuity perspective in many ways. Firstly, consider the threats you may have already faced – these may be from your own 'near miss' experiences to those reported in your industry, and by others in your local area. Combine these with your knowledge of internal sources of ignition, presence of combustibles, building design features and suppression or fireproofing, and any high-risk activities you may undertake. By taking all these factors into consideration, you'll be more aware of the risks you and your employees experience and how to manage these more effectively.
What can I do to reduce the risk?
Best-practice and common-sense fire and explosion prevention guidance should be reflected in any professional fire risk assessment.  If you don't have one of these, or if it's more than a year old, we'd strongly recommend you obtain one and apply the targeted guidance it offers.  Below are some general things to consider:
Identify high risk areas and systematically control them.  This might include regular cleaning and removal of flammable waste, limiting storage of catalysts and flammables, eliminating ignition sources through regular equipment servicing, removal of dust and extraction.
Risk-assess neighbouring properties and take steps collaboratively or individually to reduce the risk of their fire becoming yours, e.g. if a neighbouring property deals with hazardous chemicals, has hot working and is in close proximity to your building. Consider organising your business to maintain a safe separation between critical activities and assets, and neighbouring threats.
Design enclosures or containments to protect critical equipment or resources. Check the fire-retardant properties of construction materials used in your premises.
Compartmentalise workspace to contain and delay the spread of fire from one area to another, using features such as fire-resistant doors, partitions and curtains.
Make a point of regularly maintaining mechanical and electrical services such as electrical installations, LEV systems and pressure vessels.
Install fire detection systems to provide early warning notification and fire suppression to extinguish a fire or stop it from spreading.
What happens if the risk materialises?
We recommend that you identify and document how you could pro-actively take steps to ensure you keep your business running if an incident occurs. These could include:
Work-from-home capacity
Production outsourcing
Reciprocal or white-labelling arrangements
Rented space
Resilient cloud or offsite IT backups
Spares
Alternative Supplier relationships
Relevant insurances providing fast access to cash, services and advice.
It's important to also consider having provisions in place to acquire alternative premises should the worst happen, so that you're able to continue to offer an acceptable service to your customers.  
We are working together with Inoni to bring you insight into resilience, risk and continuity planning to help make your business stronger. If you feel your business would benefit from specialist support to develop your Business Continuity Plan, please send an email to our partners Inoni, who can explain the services they offer.
If you feel you need support with your Business Insurance needs, please get in touch with your local NFU Mutual agency office.