With so many contents insurance products on the market, making the right decision to ensure you have the right level of cover can be difficult.
So to help you, Defaqto has developed a contents insurance comparison tool so you can compare contents insurance under a Home and Lifestyle Insurance policy with other providers'.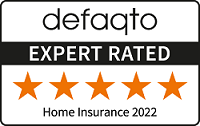 Defaqto is a leading financial information, ratings and fintech business, helping consumers, financial institutions and financial advisers make better informed decisions.
Our Home and Lifestyle Insurance is rated 5 Star by Defaqto, and provides one of the highest quality offerings on the market.
What does contents insurance cover?
Generally speaking, contents insurance covers the things that can be carried out of your property. This includes things like curtains, carpets, furniture, soft furnishings, jewellery, gadgets and white goods like a freezer - and the food inside.
Our contents insurance, as part of a Home and Lifestyle Insurance policy, provides a high level of cover for your home contents, including alternative accommodation cover, cover of garden contents and legal expenses cover, all included as standard.
You can also compare buildings insurance.
Get a contents insurance quote
The data provided in this table is made available to us by Defaqto. NFU Mutual cannot be held responsible for the data shared via a third party. In the unlikely event that you are invited to enter data into the tool please do not proceed in doing so and notify us via the feedback tab.
Get a contents insurance quote
*New replacements if your contents are damaged beyond repair. Accidental damage can be covered for an additional premium.