Agency Giving Fund Canterbury and Sittingbourne 2023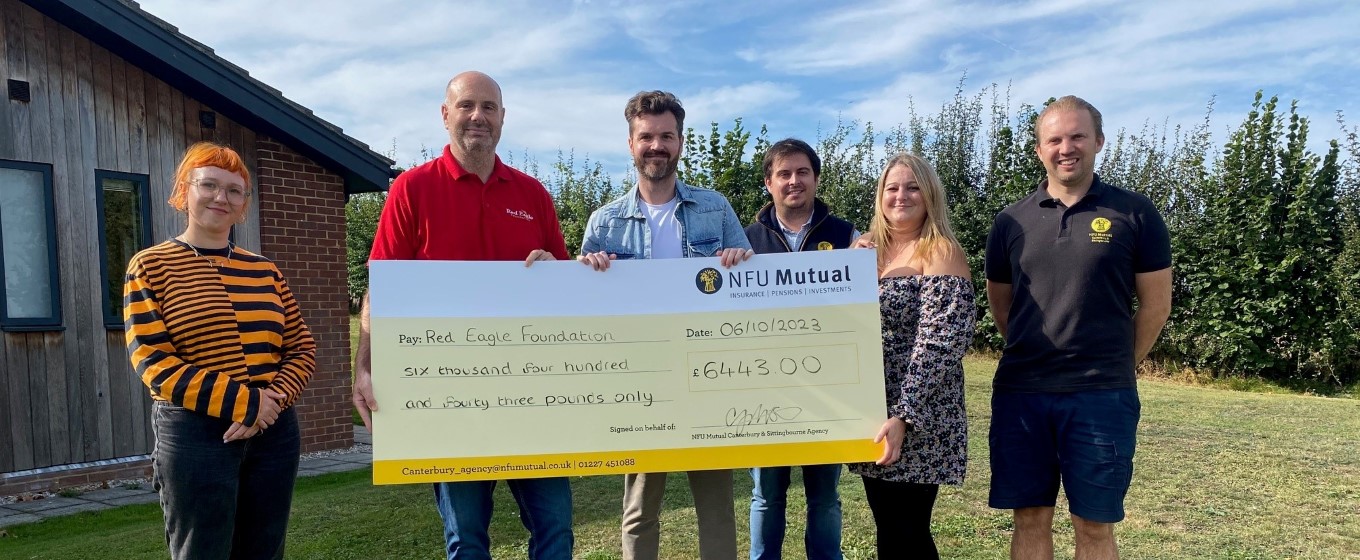 NFU Mutual Canterbury & Sittingbourne agency recently nominated two local charity's to receive a donation of £6,443 each, from NFU Mutual's national £1.92 million Agency Giving Fund.
Red Eagle Foundation
Red Eagle Foundation, based in Folkstone, provides bespoke equipment for children with disabilities. Dominic Comins, CEO Red Eagle Foundation, explained how the funding will make a difference: "I would like to thank NFU Mutual for this wonderful donation that will help disabled and disadvantaged children in Kent. The funds will be used to fund specialist buggies for three young children to ensure that they are able to feel safe and secure when outside their house. These children have complex needs that prevent them from being able to use regular buggies and without these they would be either house bound or be put at risk if they were to on days out. As a small charity we are often overlooked for funding, and we have to disappoint so many people that look to us for help. It is vital that these children are given the opportunity to go outside without fear and get to enjoy fresh air and exercise. NFU Mutual have changed the lives of three children today!"
James Hodge, Senior Agent and Group Secretary, at NFU Mutual Canterbury & Sittingbourne office, said: "We're extremely proud to have nominated Red Eagle Foundation for this donation and are delighted to be able to support the vital contribution they make to our community."
Bright Shadow
Bright Shadow, based in Herne Bay, has a mission to enable people living with dementia, and those affected by it, to live well and to thrive. Clare Thomas, Chief Executive at Bright Shadow, explained how the funding will make a difference: "Your donation will be used to fund the costs of the community room hire and the fees for our expert artist facilitators for one Zest group in the Canterbury district for one year. Our Zest sessions bring together people living with and affected by dementia on a weekly basis (40 weeks per year) to enjoy creative activities that stimulate, enrich, and boost isolated and vulnerable people. In addition to this we offer a year-round companionship calls service and access to other opportunities that mean families feel a sustained benefit of being part of the Bright Shadow community."
James Hodge said: "Mutual's Agency Giving Fund was first created in 2020 in response to the pandemic, and this ongoing support is helping to change lives, providing both emergency support and building long-term resilience."