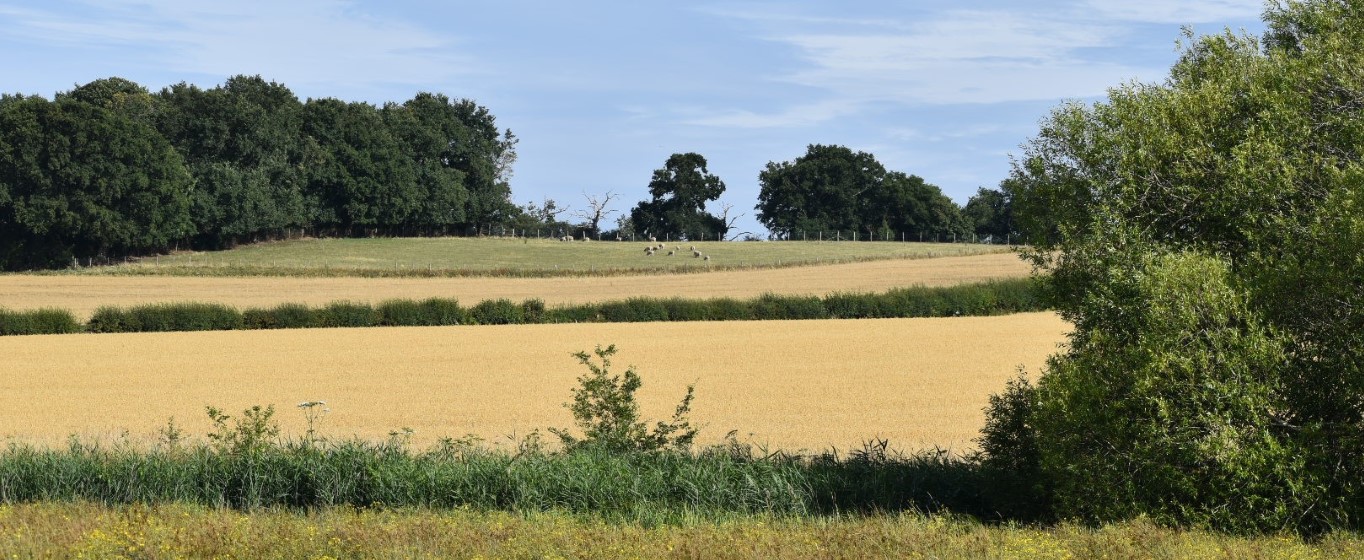 Canterbury agency
Customer (October 2023)
NFU Mutual has been great for the past few years for my van insurance. This was the first year of having my own policy and William made the process so easy. Over several calls for a couple of weeks, William remembered who I was and helped me every step of the way.
William was the most helpful and supportive person and i actually had a laugh getting insurance for a change! 
5 Stars!
Customer (October 2023)
May I take this opportunity to thank you once again for keeping us insured and safe for both home and motor vehicles. Your professional and kind way you deal with enquiries has been excellent over the many years that I have been with the Canterbury Office. I am always telling friends to switch to NFU Mutual!
Customer (May 2023)
We were recommended to use NFU Mutual for home insurance and were extremely glad we took this advice. We have used NFU Mutual's services since 2017 and have found them extremely helpful, polite, professional and excellent value for money. All requests from us were dealt in a timely manner and with great care. Thomas Chambers has been particularly outstanding.
We would most definitely use NFU Mutual for any future business. Thank you to your team for all your kind help.
Customer (April 2023) 
I made an initial call to NFU Mutual Canterbury agency with whom we have a policy with and was put through to Abigail Crouch.
Abigail was like the physical presence of Chamomile tea, in that she was very calming, and caring, and showed great empathy and sympathy whilst we spoke of what had happened.
Hearing an assured calm professional voice after an upsetting situation is pure gold dust.
Abigail very patiently advised us of our course of action, and what we needed to provide, and was a calming influence throughout.
Abigail informed us of information regarding our policy and wrote to us with a settlement figure and has been totally professional and yet very caring throughout, and showed great expediency in the process, a credit to both NFU Mutual and the insurance industry. An excellent company and highly recommended.
Many thanks for setting up the claim and for going through the process in such a professional manner.
Commercial Customer (March 2023)
Thank you, you have been so efficient and convenient. I can't thank you enough and my son has gone from being very blue about his broken phone to being a very happy and relieved boy. He felt very guilty about dropping it. One very happy child with a new phone. Thank you so much.
Customer (October 2022)
Thank you so much for such a swift and hassle-free claim for my damaged glasses and settling the claim so quickly within 7 days. It was a pleasure dealing with you and one of the reasons we have chosen to stay with NFU Mutual. Thank You.
Customer, (September 2022)
Thank you so much for looking after my windscreen claim and expediting such a rapid pay-out.  It's things like this that make me stay with NFU Mutual rather than scratch around for a few pounds less insuring with other companies.  In the last 12 months we have had two insurance issues, both of which were sorted with the minimum of fuss and NFU Mutual's support has been second to none.  Please pass my sincere thanks on to whoever you feel would like to know how pleased I am that I insure my home, contents and cars through NFU Mutual.
Customer, (September 2022)
I cannot fault Abigail for her service through the process of insuring my horse she was polite helpful and efficient I would not hesitate to recommend anyone to call her for assistance. It was truly nice to speak to such a nice young lady over the phone who had time to answer all my questions and help me with placing the correct level of cover. So nice in this day and age to be able to give such feedback. Many thanks once again.
GI Customer Canterbury (January 2022)
I wanted to write to you to express my gratitude on the experience I have had with Kodi in your department. Kodi has gone above and beyond in hisattempt to help me with insurance and even stayed later than his hours at work to make sure the job was completed in a timely manner. Kodi has also followed up on numerous occasions to make sure I'm satisfied with the way the policy is going. I believe he is a great asset to NFU Mutual.
Sara Mount, Farming customer (December 2021)
Thank you for your call yesterday Michelle, you were very helpful and patient with myself and the queries I had, would highly recommend - thank you.
Evans Appliances, Rochester (July 2021)
Excellent customer service from  Kodi at NFU Mutual Canterbury & Sittingbource agency. car insurance. Nothing was too much trouble. He answered my query promptly and efficiently. A refreshing change in today's busy world. Thank you. 
NFU Mutual Car Insurance Customer (May 2021)
I've never had such clear insurance quote information provided this way before, very much appreciate it, thank you.
General Insurance Customer ( March 2021)
NFU Mutual Canterbury & Sittingbourne team provide the sort of reassurance needed when life throws an unexpected problem or disaster your way. The last thing you need to do, is deal with an uncaring insurer whose main aim seems to be to duck the promises they made, when signing you up. Hopefully we will not need your services in the future – however, we are able to relax in the knowledge that if we do, the people at NFU Mutual will be there for us.
Mr A (November 2020)
I just wanted to say thank you for the speed in which you dealt with my claim. To receive the necessary paperwork, the receipt, to process it and pay the claim settlement into my bank account in 3 days is a level of service that many aspire to but few attain!
Mr R (November 2020)
I write to express my sincere thanks for the impeccable way in which you have handled this claim. Always chasing on my behalf to ensure that I was happy with the service I was receiving from your suppliers to replace my lost earring. I really couldn't have wished for more and it is rare to find it. Even though NFU Mutual may not be the cheapest, this is why I have continued to insure my house and cars with them for the last 20 years. I recommend NFU Mutual to all my friends and indeed the couple to whom I recently sold my house have become their customers too.
General Insurance Customer (October 2020)


Thank you so much for dealing with the claim so quickly. You make life much easier for all of us. It is really appreciated.
Commercial Customer (August 2020)
Thanks for your help and can I say that NFU Mutual have been incredibly helpful all the time I have been overseeing my parent's account, making what has been a difficult job so much easier. I do recommend NFU Mutual to others especially if they need Bespoke insurance.
Louise, Sevenoaks (August 2020)


Having had house and car insurance through the NFU Mutual Canterbury office for what must be 20 years, let me record that they may not be the cheapest, but they are the most helpful and responsive bunch. Having recommended you to the couple moving into the area and buying my house, they are now also insuring with you. On the rare occasions I have had to make a claim it has been dealt with sensitively and efficiently.
EKT (June 2020)


I have had to make two claims to NFU Mutual this year, both the consequence of very bad weather. Each claim was managed very well, with the minimum of paperwork, and settled promptly with no argument. The Commercial Account Handler at the Canterbury office was especially helpful.
Mr W (June 2020)
Thank you to the team at NFU Mutual. We were sad to have to cut short our big holiday in New Zealand but really pleased and surprised how efficiently and quickly your team refunded the cost of the curtailed element of our holiday. Our second claim on an NFU Mutual policy and again dealt with in a friendly and professional way.
Mr & Mrs B (May 2020)
WOW! What a fantastic service from start to finish! This has been the simplest insurance claim I have ever undertaken. The staff are polite, friendly and super-efficient. The whole process took minutes and the money was with me within hours of the claim being validated. Thank you so much, I would recommend NFU Mutual to anyone.
Mr J (May 2020)
Just to let you know that my travel insurance claim has been settled and I have been impressed with all aspects of the NFU Mutual service.
Mr W (April 2020)

I am very impressed by the way Jade at NFU Mutual dealt with my claim. She quickly arranged for my computer, which had been damaged in a decorating accident, to be sent back to the manufacturer to be assessed. It was decided that it was not cost effective to repair the machine. NFU Mutual quickly arranged to reimburse me for a new computer. From initially contacting them to settling my claim was less than two weeks.
Mr A (April 2020)

Thank you so much Jade for the way you handled my sisters claim. I have dealt with various insurance companies through the years, but this is the first time that I have not had to jump through hoops or to have to continually chase for progress reports. I would recommend NFU Mutual without a second thought and will consider moving my insurance to NFU Mutual on the renewal date.
Mrs R (March 2020)
I have been very impressed with the level of service I have recently received from NFU Mutual Canterbury and Sittingbourne, and from Michelle in particular. Michelle has been courteous and professional throughout and has delivered the right solution at the right price. I would have no hesitation in strongly recommending Michelle and NFU Mutual.
Commercial Insurance Customer (March 2020)
Your excellent customer service made a horrible situation more bearable.
Commercial Insurance Customer (March 2020)

Thank you, the staff and NFU Mutual for being so efficient in making all this happen so quickly.
Mrs W (March 2020)
I just wanted to write to thank you for the way our claim has been handled. At a distressing time when our tractor and equipment was stolen, we found that NFU Mutual treated us so well and the claim was handled so smoothly, which is unusual in this day and age for insurance companies. No reams and reams of forms to fill in, no delays in processing, just speed and customer friendly service.
Mr and Mrs N (March 2020)
Right from the initial phone call after the water damage, the NFU Mutual claims department were very professional and the loss adjuster assessed the damage very quickly. The contractors they recommended to carry out the remedial works were very good and they restored the old property sympathetically. I was very happy with both the outcome and the way NFU Mutual handled the claim.
Mr H (February 2020)

I have had a good experience while dealing with NFU Mutual and they have been very helpful while sorting the insurance.
Mrs R (January 2020)

Never having had cause to claim on my household insurance before, I must say I have been impressed by the response that I have received thus far. Both Rainbow International and City Construction Ltd have – in general – shown a high level of expertise and the plastering and redecoration of the affected areas has been performed to a high standard.
Mrs E (December 2019)
I had an accident, the first for many years, which resulted in my car being written off over the weekend. A single call to NFU Mutual secured a comfortable hire car immediately and my car was picked up and dealt with without any hassle. The claim was processed in record speed and the replacement I bought put onto the policy. There were no delays or communications breakdowns throughout the brief and efficient process.
Sir Julian Brazier, Canterbury (December 2019)
I just wanted to thank you and all at NFU Mutual for the support and help with my recent travel insurance claim. It's bad enough having the disappointment of a cancelled holiday and an unwell partner and the thought of submitting a claim was really quite daunting. However yours was really a first rate service and the claim was settled very quickly.
(September 2019)
J J Hodge & J W Garrett is an appointed representative of The National Farmers Union Mutual Insurance Society Limited.