February 2020
On Saturday 29th February 2020, NFU Mutual Crediton & Witheridge jointly held our 'Cider & Pasty Quiz' with Newton St Cyres YFC which has become a very successful annual event. Over 25 teams entered with funds raised for local charities. Thanks to Victoria Boxall-Hunt and all at Newton St Cyres Young Farmers Club for their help organising the evening.

November 2019
Crediton & Witheridge Annual Open Meeting was held on Wednesday 13th November 2019 from 7.30pm at The London Inn, Morchard Bishop, EX17 6NW. Rural crime prevention was our main topic with Martin Beck, Devon Rural Crime Officer from Devon & Cornwall Police, our guest speaker along with David Waring, Police Community Support Officer in Mid Devon. Details of the revised Farm Watch scheme and the new Devon & Cornwall Police Alert system were discussed. Please see the link here for details of the D&C Police Alert Scheme which we recommend our members sign up to receive. Make sure to tick the Farm Watch option as well as other areas of interest when subscribing.
September 2019
We held an enjoyable and informative visit to Den Brook Wind Farm courtesy of Martin & Duncan Tucker at Crooke Burnell, North Tawton, EX20 2BJ on Friday 6th September 2019. Thanks to the Tuckers for their hospitality and to Bow YFC for organising the barbecue.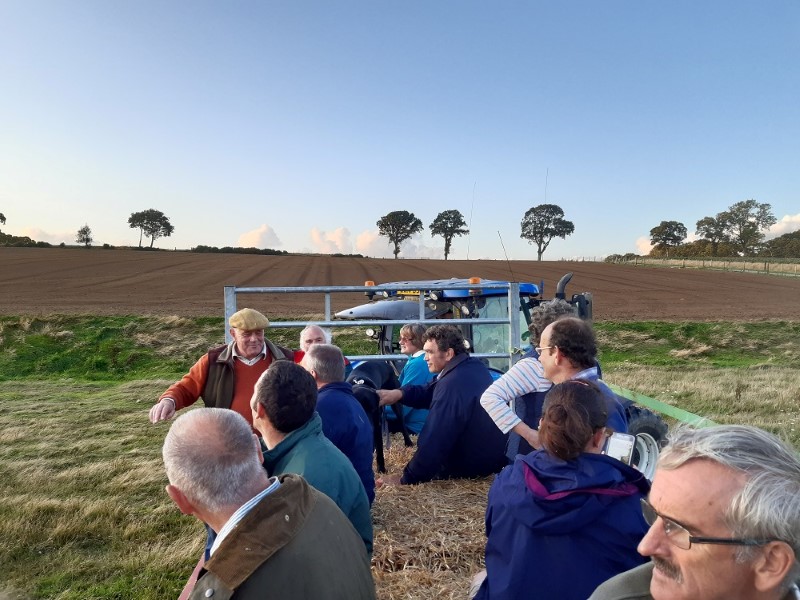 July 2019
On Friday 5th July 2019 we held a social evening at Aubrey & Hazel Hosegoods farm at Wheathaven near East Worlington. A big thank you to the Hosegood family for their hospitality and for arranging with Alan Down, our Branch Chairman, the various attractions on site including the guess the weight of the lamb competition (well done to John Daw for picking up the prize!), calf pens & the tour of the robotic milking machinery. Our thanks also to the various suppliers supporting the event & Cruwys Morchard YFC for providing the barbecue and refreshments. The evening was very well attended and an enjoyable opportunity to see how one farm business operates, compare notes and socialise.
April 2019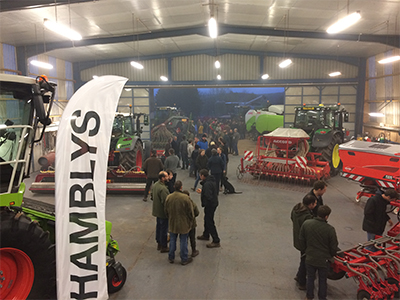 Around 90 members and their families attended the open evening at Steve Yeandle's Agricultural Contracting business at Smallbrook on Friday 5th April. A great social occasion with some large and interesting pieces of agricultural machinery to prompt conversation. Thank you to Steve, Donna and their team for hosting us and to Newton St Cyres YFC for providing the barbecue and to those who provided prizes for the raffle.
February 2019
The 'Cider & Pastry' quiz night jointly run with Newton St Cyres Young Farmers Club went very well with over 120 people attending on Friday 22nd February. A great evening at Sandford Village Hall with over 30 teams participating.
January 2019
Memorial Service for Vivyan Bates, retired Group Secretary - Mr Vivyan D K Bates, who was NFU Group Secretary at Crediton, Devon, in the 1970 - 1990s era, passed away suddenly a few days prior to Christmas, with his wife Val by his side, as they were walking into the Ship Inn, Axmouth, to attend the Rotary Club Xmas dinner. Paramedics attended, but were not able to resuscitate him. He had celebrated his 82nd birthday in September, having survived major heart surgery plus two lower leg amputations in the past two decades.
A Thanksgiving Service was held on Tuesday 8th January 2019 at St Michael's Church, Church Street, Axmouth, Devon, EX12 4AF. The church was full. Many members and Group Secretaries past and present attended. Donations to charity in memory of Vivyan are able to be made online at www.hansfords-funeral.co.uk or c/o Hansfords Funeral Service, Bay View, Trevelyan Road, Seaton, EX12 2NL.
November 2018
Crediton & Witheridge NFU Annual Meeting - Alan Down replaces Michael Ayre as branch Chairman for Crediton & Witheridge NFU following a well-attended Annual Open Meeting on Friday 9th November at The London Inn, Morchard Bishop. Our thanks again to Michael for his time as Chairman, a position which he stood down from at this meeting. The guest speaker was Neil Parish, MP for Tiverton & Honiton and Chairman of the Environment, Food & Rural Affairs Parliamentary Select Committee who discussed BREXIT and the Agricultural Bill with those attending.
October 2018
RABI Coffee Morning - We raised over £100 for RABI from the proceeds from our Coffee Morning at the Crediton NFU & NFU Mutual office on Friday 12th October. Thank you to all those who attended.
SEPTEMBER 2018
Farm Walk & BBQ - We held our NFU Farm Walk & Barbecue on Thursday 23rd August at Creedy Carver, Merrifield, Crediton. James Coleman provided an excellent tour of the premises including the nature reserve, poultry houses and free range duck houses & ponds, processing house and offices. The firm employs over 100 people and is renowned for the quality of its duck and chicken. The tour was well attended with over 40 members. The tour finished with drinks and a barbecue. Michael Ayre, our Branch Chairman, finished the evening with a vote of thanks to James.
North Wyke Research Visit – An NFU office visit to North Wyke Research was held on the morning of Tuesday 4th September from 10am to 1pm finishing with lunch at the research centre, operated by Rothamsted Research. Some facts about the centre; North Wyke attracts scientific researchers from different communities and disciplines who are seeking to develop sustainable ruminant production systems, with an emphasis on beef cattle and sheep production. The centre uses three different 'farmlets' to research different approaches to livestock production from grassland. 19 members attended.
The facility focusses on key issues in sustainable agriculture including:
• Replacement of nitrogen fertiliser with N-fixation by legumes– to reduce energy consumption and emissions of greenhouse gases
• Using plants to manage soils and hydrology in green-engineering solutions to flooding
• Efficient phosphorus cycling in grassland systems
• Resilience of soil biota and their functions as land use changes
• Impact of grassland management on carbon cycling, storage and sequestration
• Improving the efficient use of water resources
• Improving all aspects of animal health and performance
• Systems modelling to design optimal grassland production systems.
A very interesting and well attended visit and great to know we have cutting edge science on our doorstep!
JUNE 2018
Open Farm Sunday - Open Farm Sunday was held on 10th June. Thornes Farm Shop at Stockleigh Pomery and Quickes Traditional Ltd in Newton St Cyres both opened their farm gates to visitors. Michael Ayre, Crediton & Witheridge Branch Chairman along with Richard Pym, Agent at Crediton NFU Mutual, were at Anthony Thornes where Open Farm Sunday coincided with the first weekend of the Pick Your Own Strawberry season. Alan Down, Crediton & Witheridge Vice Chairman, along with his wife Maggie, helped Jeremy Atkins, Group Secretary at Quickes. The Newton St Cyres YFC 'dunking stool' fund raiser was a real draw at Quickes for visitors and stallholders alike! Well done to the YFC members who bravely went for a dip! Loads of kids activity packs were handed out to families visiting the farms and we were very lucky with the weather! Congratulations to both Thornes and Quickes for running such successful showcases for British farmers and growers. For more information on Open Farm Sunday events please visit www.farmsunday.org

JANUARY 2018
Pynes Water Treatment Visit - On the 24th January 12 members visited the Pynes Water Treatment Works at Upton Pyne. South West Water's water quality experts led us on a guided tour of the fully operational site which included the history of the water supply serving Exeter, Crediton and the Exe estuary area. Clean, safe drinking water is a resource which is often taken for granted and it was an education to see how the treatment process works.
Long Term Relationship - Jeremy Atkins met with William Pickard on the 25th January. William and his family have had insurance in place with us for many years and it is one of the oldest continuous client relationships that we have in Crediton. William and his family farmed at Nymet Barton, Bow, and a number of historic insurance policy documents survive; the oldest being an Agricultural Vehicle policy issued on the 14th February 1947 (pictured with William). This policy was in Williams fathers name, Percival William Pickard, for a Fordson tractor, JTA 561, with an estimated value of £177 insured. The policy cost £1. Premiums and policies change but the relationship has stayed strong.