Presenting a snapshot of how the hospitality sector is being impacted by food hygiene and the Food Hygiene ratings system, based on the findings from our 2019 report "A fresh look at Food Hygiene"
Foreword
"It's an exciting time for the food service industry. Change is in the air and with that comes many challenges. Customers are crying out for innovation, seeking appealing environments and unusual experiences when they dine. The desire for provenance, and using top ingredients is becoming more important, and ensuring food served is ethically sourced, safely stored and hygienically handled can leave a company's reputation at tipping point."
Darren Seward, Hospitality Specialist at NFU Mutual
A unique perspective
At NFU Mutual we're uniquely placed to analyse the food market and food hygiene in particular. We insure three quarters of the UK's farms and thousands of hospitality, retail and manufacturing businesses that serve the food we eat from 'field to fork'.
In February 2017 we published our first Food Hygiene Ratings Report which looked at what the Food Standards Agency's (FSA) ratings meant to the public and their impact on businesses. To update the picture, we commissioned a new report in 2019 surveying a demographically representative sample of over 2,000 people across the UK. We then assessed these findings in conjunction with the FSA food hygiene tool to better understand the country's current attitudes and spending patterns.
Food hospitality: an industry snapshot
The research took place against a somewhat complex background for the industry. Recent news stories such as the cross-contamination tragedies at Byron Burger and Pret-a-Manger have raised public awareness of food hygiene and safety, yet new legislation to make rating stickers mandatory in England has still to be implemented. Local authorities are responsible for their own ratings, but funding cuts have resulted in fewer inspections, making it difficult for businesses to challenge their score. There have also been questions raised about consistency between different regions, which has the potential for unfair FSA ratings.
NFU Mutual Research 2019
Current attitudes
91% of people are in favour of a new law in England to make displaying food hygiene ratings compulsory compared with 88% in 2017. The strong groundswell of support shows that even with the current delay in legislation, the move seems inevitable.
The majority of respondents in our research (98%) said they would be influenced by a food hygiene rating displayed in a window - an increase from 2017, which shows more trust being placed in the scheme.

69% of people check the food hygiene ratings of the establishments they use, with hospitality venues such as restaurants, cafes and pubs most likely to be checked.

1 in 3 people would also turn away if a premises had a rating of 3 or less which is unwelcome news for the 52,004 business with a lower rating as if displays were made mandatory, this could be potentially damaging to trade.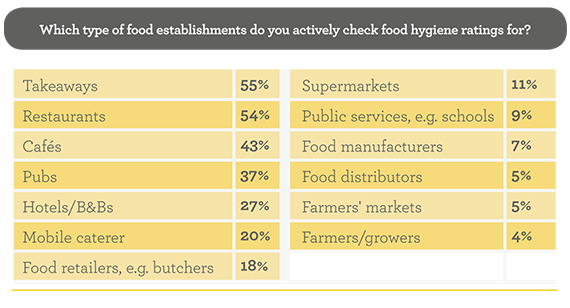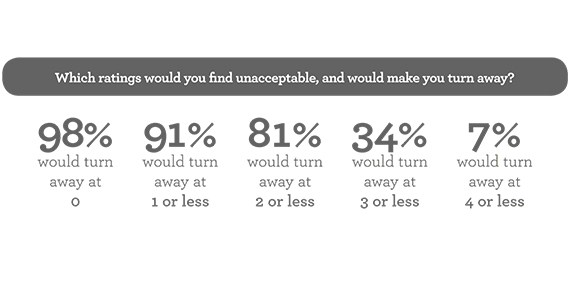 Potential loss of takings
Customers were asked how much money they would be willing to spend on one adult meal based on the rating, to provide a demonstration of the potential impact upon takings.
According to a Fourth Analytics report in The Caterer in 2015, the average weekly restaurant takings are £18,000. Applying this to our findings shows that a business with a rating of 3 would need to cook 2,006 meals to bring in that amount of turnover, while a business with a rating of 5 would only need to provide 1,040 meals.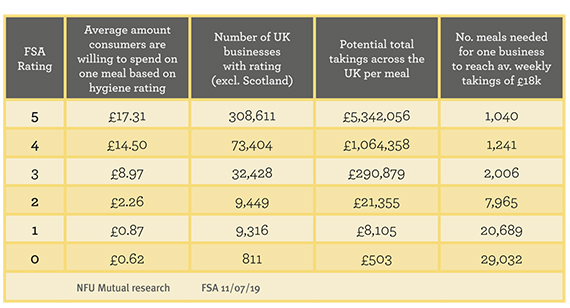 The fact that customers are willing to spend almost double the amount of money (+93%) in a business with a 5 rating rather than a 3 shows just how much the system is valued and what a significant commercial advantage a high rating can offer.
Reputational impact
The public invariably think the worst when a food hygiene issue arises in the media. Such perceptions can cause serious damage to reputation and revenue as even the cleanest of sites can fail inspections due to mismanaged paperwork or incorrect workspace layout which are often under-represented in news stories.
What do you immediately assume a business is guilty of if they are in the media for poor hygiene?
| | |
| --- | --- |
| Dirty workspace | 37% |
| Bacteria | 21% |
| Pests | 15% |
| Food stored incorrectly | 12% |
| Unwashed hands | 4% |
| Mouldy food | 4% |
| Food past its use-by date | 3% |
| Poor paperwork | 1% |
| Workspace layout | 0% |
Change in buying behaviour
Consumers were asked if they had changed the way they buy food because of hearing about hygiene and recall issues;

55% said these issues did affect the way they bought food from hospitality businesses, with 28% stating they now take longer to look at the menu.

The findings underline the very strong link the public makes between food hygiene and the hospitality sector, which is greater than that for manufacturing or retail.
Conclusion
There is an unarguable link between the effect that a rating has on customers and how this impacts profit. Hygiene ratings can directly hinder your financial performance in what is a very competitive marketplace. With margins being so tight, there is little doubt that every business owner in the hospitality sector should make their food rating a priority.
To find out how NFU Mutual can support your hospitality business, please contact your local NFU Mutual office. You can download the full report 'A fresh look at Food Hygiene' here.