Would your hygiene score make customers walk away?
When you're a business serving or selling food, the standard of your hygiene could have the ability to jeopardise the safety of customers and the reputation of your business.
By 2019, businesses could be required by law to display their food hygiene ratings - news that is likely to ring alarm bells for those struggling to reach the top grades. This raises the question; what score would make your customers turn away at the front door of your business?
As part of our ongoing efforts to understand the risks and challenges faced by businesses in hospitality and retail sectors, we wanted to investigate how changes to food hygiene ratings legislation could affect the behaviour of our clients' customer base, and provide insight and advice that would help them to succeed.
We asked consumers about their standards when it comes to food hygiene in restaurants, cafes, pubs, supermarkets and other outlets serving or selling food, and the results were conclusive. Here's an at-a-glance guide to some of the key findings of the report: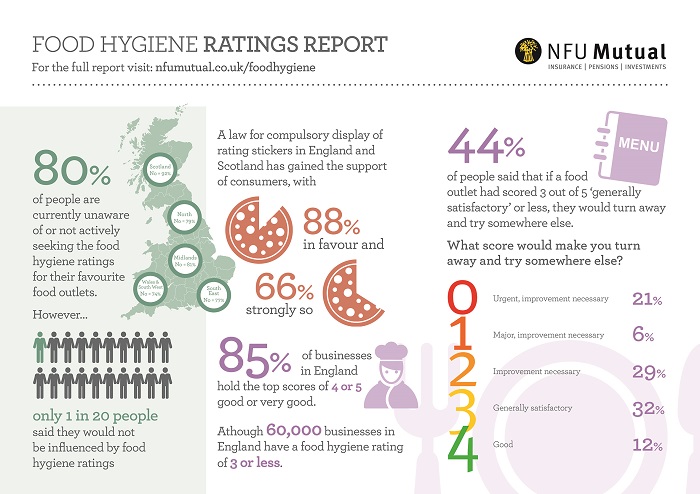 Read more about the Food Hygiene Report from our hospitality specialist, Darren Seward.
For the full report findings, more information about the legislation changes and advice on how to get a good food hygiene rating, request your free PDF copy of the report.