The Open Door Community Café in Hampton Magna, has received a makeover thanks to two teams of employees from Stratford-based insurer NFU Mutual.
The café, owned by St Michael's Church in the village, is a wonderful resource for everyone in the local area and has been running for many years. It is a place that offers solace to those in need, hosts walking groups, knitting groups, toddler dance and much more.
The Entrust Care Partnership, an organisation providing services for disabled children, young people and their families, runs the Open Door Café twice a week. The hub hosts hospitality work experience opportunities for six young adults with additional needs, which provides excellent pathways to employment.
The café was, however, looking a bit tired and in need of a refresh, and NFU Mutual colleagues were keen to step in to help through the company's employee volunteering programme.
Lynne Barton, Director at Entrust Care Partnership, explains more: "When Warwickshire Community and Voluntary Action advertised that NFU Mutual was looking for employee volunteering opportunities we did not hesitate to make contact as the café needed some attention. The makeover has lifted everyone's spirits, and has really given our trainees a 'sense of belonging' and pride – huge thanks to the NFU Mutual team!"
Lynne added: "We are trying to turn the tide on disability unemployment figures 'one Barista' at a time. We are so proud of everything our six trainees have achieved; we have witnessed them grow in confidence and see real enjoyment of their roles."
NFU Mutual employee Matt Pemberton, who led this volunteering project, commented: "It was great to have the opportunity to help the Open Door Café. Our employee volunteering days enabled us to experience a meaningful teambuilding day for a wonderful cause, where we could really make a difference!"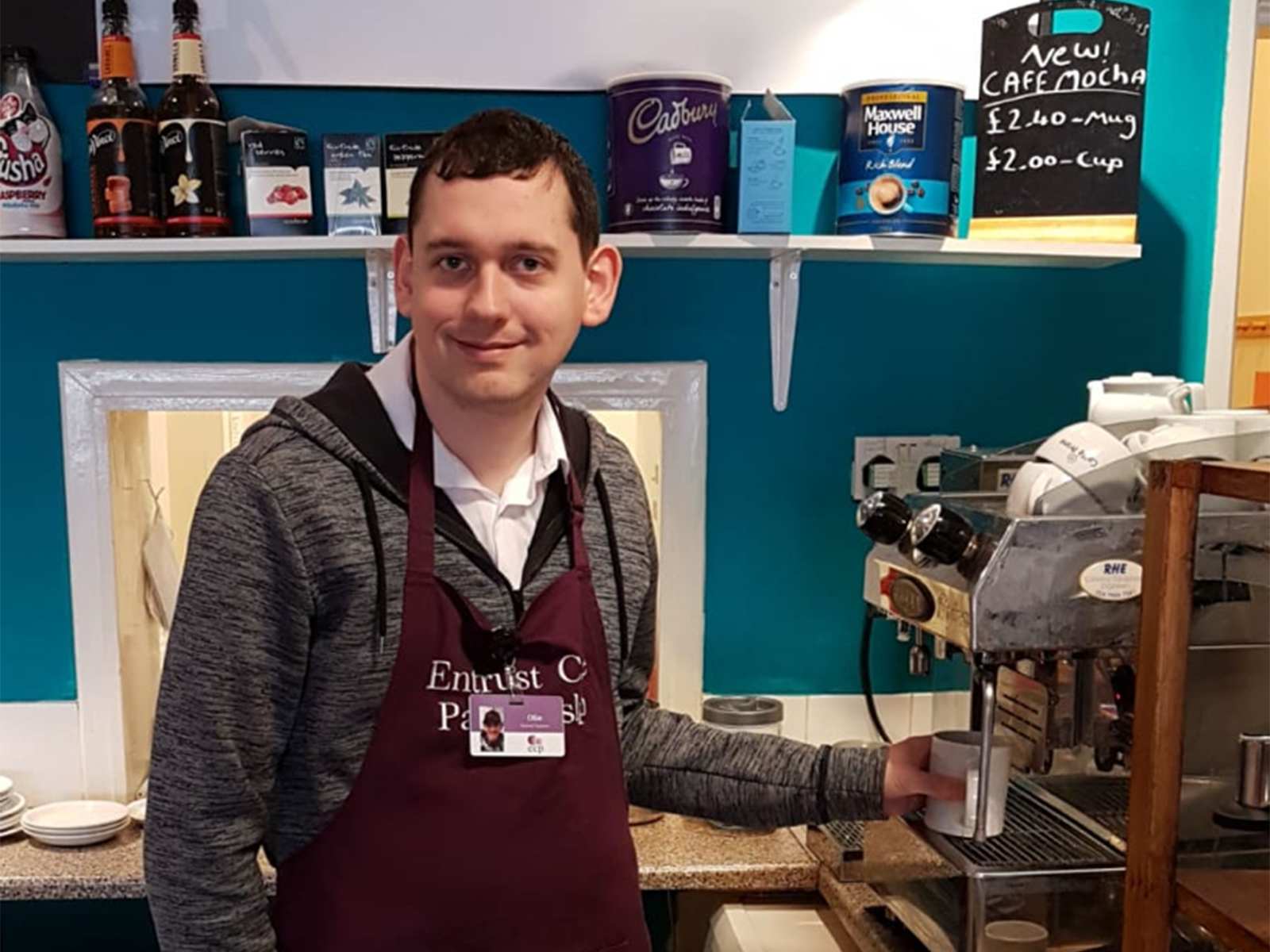 Ollie, one of the Trainee Baristas at Open Door Café.