Llanfair and Caereinion
Agency Giving Fund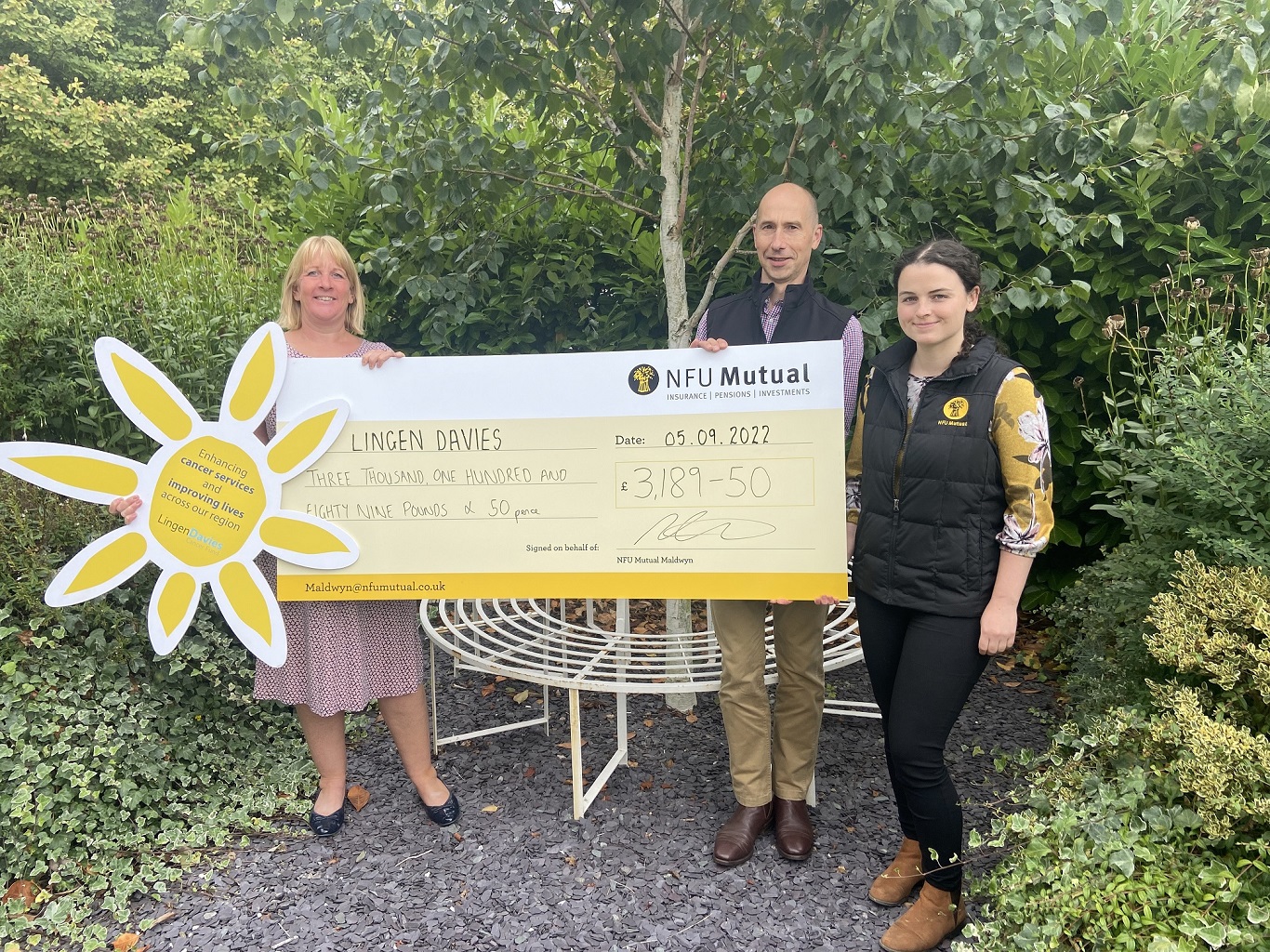 Maldwyn Agency is proud to have nominated four local charities to receive a donation of £3189.50 each from the national £1.92 million 'NFU Mutual Agency Giving Fund'.
To ensure these donations reach all corners of the UK and are directed where they're needed most, all NFU Mutual's Agents, with offices nationwide, have been given the opportunity to nominate local charities to receive a share of the fund. During these challenging and uncertain times, the funds will offer vital support to each charity.
The Lingen Davies Cancer Fund
This donation has allowed the Lingen Davies Cancer Fund to provide a new C T Scanner and Clinic Rooms, which the charity has funded.  Lingen Davies Cancer funds is dedicated to making a positive difference to those living with Cancer in Shropshire and Mid Wales.  Their Live Life Project has been set up to talk to local communities about healthy living and early detection of cancer. They are out and about in the community talking to the public and raising awareness. Helen Knight Head of Fundraising says "Thank you so much to the NFU Maldwyn Agency,  who have so kindly nominated us for a share of the charitable monies. A donation of this amount really does make a difference, and will allow us to invest more money into our ongoing projects supporting those affected by cancer. So many local people are affected by this disease, and we really do want to ensure that we can offer them the best possible treatment."
R.A.B.I (Montgomeryshire Branch)
This donation has allowed the R.A.B.I (Montgomeryshire Branch) to help farming families within Montgomeryshire. In response to the donation R.A.B.I advised that "Agriculture is one of our most important industries: farmers deliver an essential service, producing food for the nation and beyond. However, farmers face unexpected challenges, even after retiring. RABI's aim is that no member of the farming community should face adversity alone. RABI's Support Team provide invaluable advice, help with paperwork and are a friendly face and listening ear when things are tough. In Summer 2022 we launched our first ever Back to School grant, helping struggling farming families with grants to cover the cost of school uniforms, P.E. kit and other equipment for their children. We received more applications for support than we ever expected and were pleased to help hundreds of families, including five families with twelve children in Montgomeryshire. We are now starting to focus on our Christmas Hampers which are filled with store cupboard essentials – and a few treats – to retired farmers. During the festive season, it can be harder for already vulnerable people to cover the cost of the basics. The hampers also support emotional well-being, making people feel valued and thought of during what can be a lonely time for some. One person described them as 'Christmas in a box.' We couldn't do all this without the support and kindness of organisations like you and are so grateful for your generosity. Thank you again for your support".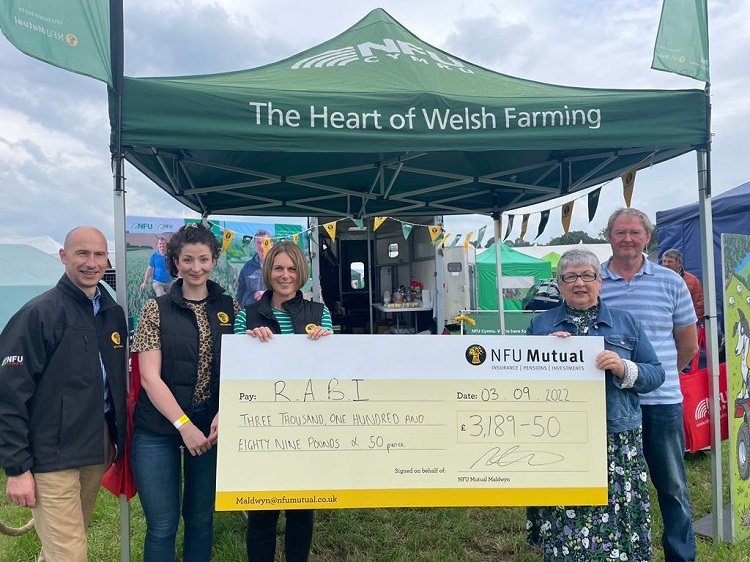 Hywel Dda Health Charities - Bronglais Chemo Unit Appeal
This donation has helped the Bronglais Chemo Unit Appeal to reach its target of £500,000 needed to transform the current chemotherapy day unit at Bronglais General Hospital into a modern, fit-for -the-future facility.   Bridget Harpwood, Fundraising Officer for Hywel Dda Health Charities, said: "We've been genuinely blown away by the support from our local communities, it has entirely exceeded our expectations. "What's become clear is how passionate people are about their local NHS - and how creative they are when it comes to fundraising!".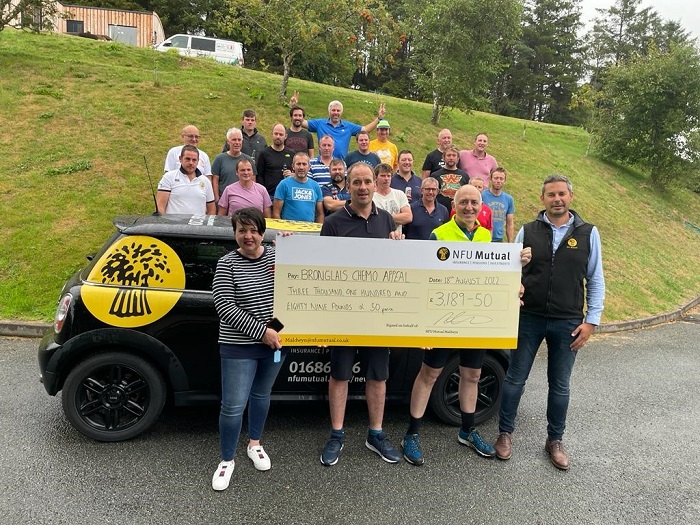 Bethshan Sheltered Housing Association
This donation has allowed the Bethshan Sheltered Housing Association to undertake a number of general improvements that needed attention. Debbie Cade - Finance Manager advised that "The plan at the moment is to use it to do refurbishment work to some of our bathrooms and we would like to pass on our gratitude to the staff of the Maldwyn Agency who nominated Bethshan to receive these funds".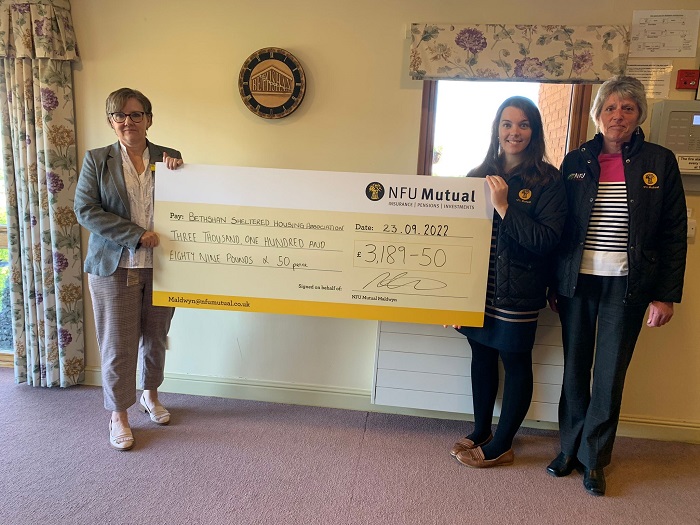 NFU Mutual's £1.92million Agency Giving Fund forms part of NFU Mutual's pledge to support charities during 2022.