Whilst we remain in a period of heightened geopolitical risk potential, markets have continued to focus primarily on the relatively healthy global economic and corporate situation and outlook.
The UK election result has added to the domestic political uncertainty created by Brexit and the UK economy is beginning to show signs of deterioration in some areas. The post EU referendum decline in sterling has provided some trading benefits, but the ensuing increase in inflation is starting to impact on consumer confidence given subdued wage growth. Business and investors would generally prefer a softer form of Brexit retaining access to the single market, but it remains to be seen how the difficult negotiations are going to progress.
Modest UK economic growth is now forecast and alongside rising inflation and political uncertainty does not provide an ideal backdrop for investors, but companies have benefited from the drop in sterling and an improving global economic situation. UK companies derive a large proportion of their revenues and profits from outside the UK, so the level of sterling and the health of the global economy are important drivers for UK equities.
CPI % change over 12 months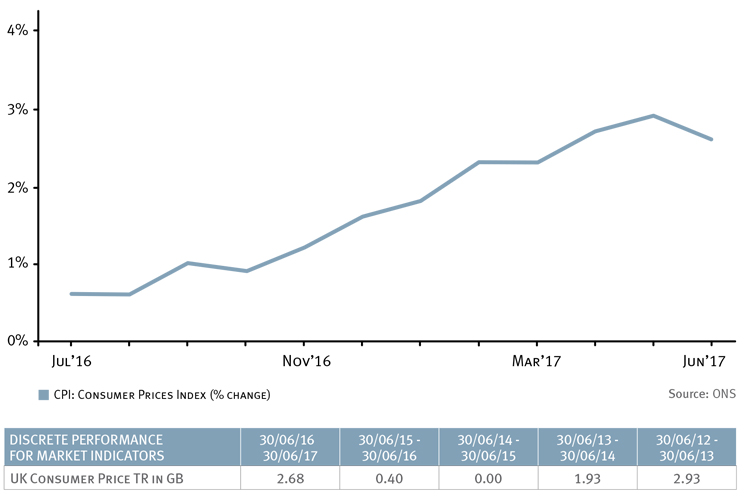 With President Trump struggling to get his policies enacted, it is looking less likely that the anticipated boost to economic growth from his pro-growth proposals will happen anytime soon, although US economic growth remains relatively healthy even without further stimulus. Europe continues to show encouraging signs of economic recovery and the political risks are diminishing. Having successfully navigated a number of potentially disruptive election outcomes in recent months, the main remaining risk is in Italy where an anti-establishment party is prominent in the poll.
China faces a difficult balancing act to retain a strong level of economic growth whilst transitioning towards a more balanced economy, but so far they have managed this relatively well. There are some concerns over the growing levels of debt in China, but they have many tools at their disposal and there are no current signs of an impending crisis. Whilst there are variations within the emerging markets, overall they are seeing good levels of economic growth and a continued improvement in corporate earnings. Alongside valuations that are cheaper than many developed markets this has encouraged investors to return to emerging markets and NFU Mutual funds remain well positioned in this area.
Since the global financial crisis we have had a strong recovery in equity prices and with corporate profits not growing at the same pace over that period we have seen equity valuations rise to above average levels on most measures. The recent improvement in profit and dividend growth will help address this and it can also still be argued that when compared to the valuation of bonds and the minimal returns on cash deposits equities offer relative attractions.
Aggressive central bank activity post the financial crisis has helped economies and asset markets to navigate this challenging period and the next challenge will be to gently withdraw this support without destabilising markets. With deflation concerns now receding and more robust growth in many areas there are growing expectations that interest rates are set to gradually move away from their exceptionally low levels and central bank balance sheet expansion through quantitative easing will be reined in.
The long period of declining bond yields has been good for returns on fixed interest assets but could be reaching a potential turning point. With a number of structural headwinds such as the level of debt and ageing demographics it is not anticipated that interest rates and bond yields will return to previous 'normal' levels, however with bond yields now at such low levels valuations look stretched and there is little income to support returns if yields do continue their recent rise. The additional income support for corporate bonds compared to government bonds alongside current very modest default risk gives us a relative preference for that area within the fixed interest world.
Commercial property investor sentiment has stabilised somewhat after the initial post EU referendum dip with overseas investors particularly still seeing value in the UK market. Returns are expected to be primarily driven by rental income, but prospects for strong rental and capital growth are subdued at present.
Gradual normalisation of monetary policy is now expected around the world but at varying paces. The Monetary Policy Committee is debating whether to increase the UK interest rate from the current 0.25%, but rates will remain very low by historic standards and rising inflation has left cash deposits struggling to offer anywhere near real returns.
In summary, on a medium to long term view equities and commercial property still offer the best prospects for returns ahead of cash and inflation and our portfolios remain tilted towards those assets where possible.
Whilst the global growth outlook has improved and corporate profits are seeing healthy growth, valuations are now more elevated across most asset classes and with a number of challenges still to navigate we are preparing for a potential period of more modest returns and volatility increasing from the current subdued level. We are currently holding above average cash levels in our mixed asset portfolios as we look for better investment opportunities.
As always, investors must be prepared for some periods of volatility by ensuring their overall investment portfolio is well diversified.
Please remember that past performance is not a reliable indicator of future results. The value of investments and the level of income received from them can fall as well as rise, and is not guaranteed.
You may not get back the amount of your original investment.