The broadening global economic recovery and healthy corporate earnings proved to be the dominant drivers of risk assets in 2017, with another good quarter finishing off a strong year for equity markets. The other main asset classes all saw lower but still positive returns.

2017 proved to be a year where the feared downside political and geopolitical risks largely failed to materialise, whilst the main upside political possibility in the form of US tax reform was delivered in December.

The UK economy has not experienced the improvements seen elsewhere and continued to see more mixed economic data. Whilst there have been some positive developments in the Brexit negotiations, the currency related impact on inflation and real wages has begun to hurt consumer confidence and much uncertainty remains over the final solution.

Despite a general lack of inflation, central banks have taken the opportunity to continue the gentle normalisation of the ultra loose monetary policy, including the first UK interest rate increase for a decade.
2017 saw consistent gains for global equity markets with remarkably little volatility or drawdowns. Further gains of 5% in the final quarter took global equity returns to around 20%. The partial reversal of the post-EU referendum weakness in sterling reduced returns from international equities for UK based investors, but the 2017 return still came in at a healthy 13.5%. Asia Pacific and Emerging Markets had another good quarter and took their 2017 sterling based gains to over 20%.
A strong year for Equities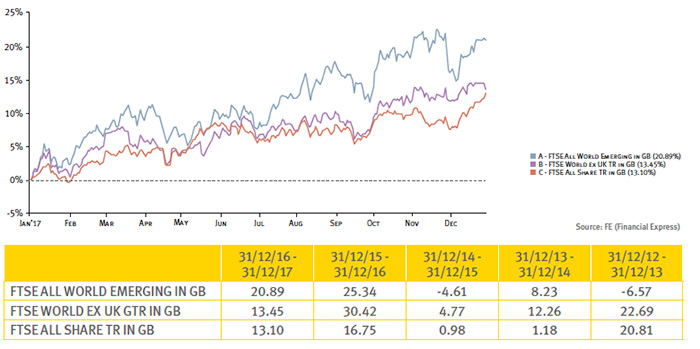 The UK equity market saw its best returns of the year in December, benefitting from the large exposure to resource companies as commodity prices rose strongly towards year end. The quarterly gain of 5.0% took the 2017 return to 13.1% for the All-Share index whilst the larger company focused FTSE 100 index gained 11.9% in 2017.
Bond markets were much more subdued compared to equities in 2017, but gains in the final quarter meant another year of positive returns. Conventional and index-linked gilts gained 2.0% and 3.5% respectively in Q4, whilst corporate bonds managed a more modest gain of 1.8%. Over the year corporate bonds led the way with 4.3% whilst UK government bonds saw returns of around 2%.
The UK commercial property market has continued to deliver steady gains, with estimated fourth quarter and 12 month returns of around 2.5% and 10% respectively.
Although the UK interest rate increased to 0.5% during the final quarter, the returns from cash deposits remained very low and are still well below the level of inflation.
Gilts and Property still provide gains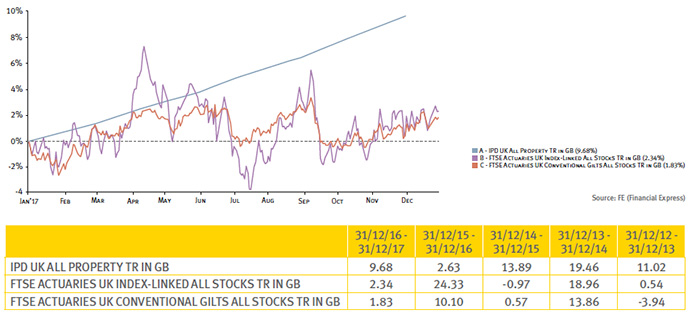 Please remember that past performance is not a reliable indicator of future results. The value of investments and the level of income received from them can fall as well as rise, and is not guaranteed.
You may not get back the amount of your original investment.