Through 2017 and the first few weeks of 2018 the broadening global economic recovery and healthy growth in corporate earnings were the dominant drivers of investment markets, with equities making steady gains and volatility very subdued during that period.
Conditions changed markedly in February as a higher than expected US wage inflation figure raised concerns over the risks of larger interest rate increases impacting economic growth. Since then we have seen further market volatility due to growing trade tensions primarily between the US and China and concerns over the high flying technology sector regarding data protection and the threat of greater regulation.
Whilst global economic conditions remain healthy, the UK economy has seen more mixed economic data and growth is now lagging behind other major economies. There have been some positive developments in the Brexit negotiations, but the currency related impact on inflation and real wages has affected consumer confidence and investor sentiment towards the UK remains cautious.
Despite limited signs of inflation, central banks have taken the opportunity to continue the gentle normalisation of monetary policy, including a further increase in US interest rates and with more expected through 2018.
Although UK bond yields are still well off the extreme lows seen in 2016, recent market volatility has seen UK fixed income assets benefit from a 'flight to safety' rotation. The gains in March enabled UK government bonds to show small positive returns in the first quarter. Corporate bond spreads widened leaving Q1 losses at 1.2%.
Volatile equity markets in 2018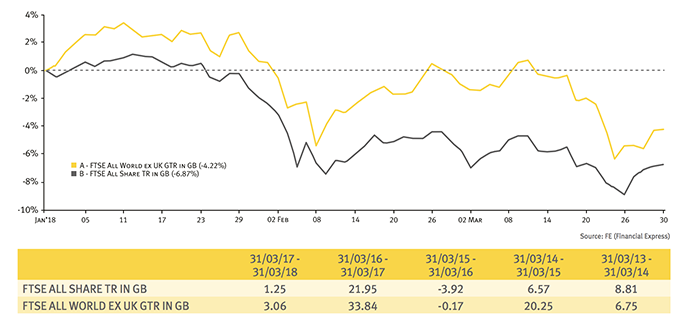 Despite the initial gains, equity markets finished the first quarter in negative territory. UK equities continued their run of underperforming global markets, with the FTSE All-Share index seeing losses of 6.9% and the larger company focused FTSE 100 index losing 7.2%.
In local currency terms international equities saw a decline of 1.6%, but the continued recovery in sterling worsened the losses for UK based investors to 4.2%.
All regions saw declines, with emerging markets holding up the best at -2.2%.
Income continued to be the primary driver of commercial property returns, with an estimated Q1 gain of 1.9%.
With the UK interest rate at 0.5% the returns from cash deposits remained very low and still well below the level of inflation.
The rise of inflation

RPI – ANNUAL INFLATION SHOWN MONTH ON MONTH
Please remember that past performance is not a reliable indicator of future results. The value of investments and the level of income received from them can fall as well as rise, and is not guaranteed.
You may not get back the amount of your original investment.