Whilst political uncertainty from a number of sources has continued throughout 2017, investment markets have retained a healthy focus on more fundamental factors. The favourable backdrop for risk assets saw equities and commercial property make further gains in the third quarter, driven by growing evidence of a synchronised pick-up in global economic growth which has fed through to improving corporate earnings.
US and emerging market economic growth has remained firm, but the most significant development has been the good domestic demand led recovery seen in Europe. The UK economy has gone against the trend and seen some weakening of growth as the impact of currency induced rising inflation and Brexit related uncertainty begins to bite.
There have been growing indications that the long period of exceptional global monetary policy stimulus is reaching a turning point. Many central banks have been preparing the ground for some policy normalisation and the UK's Monetary Policy Committee have pointed to a likely reversal of the post-Brexit interest rate cut and suggested further rate rises are possible.
This has led to a recent increase in bond yields and the third quarter saw conventional and indexlinked gilts fall by 0.4% and 0.7% respectively, whilst corporate bonds managed a gain of just 0.1%. Over the 9 month period government bonds were modestly negative whereas corporate bonds returned 2.4%.
FTSE UK vs FTSE All World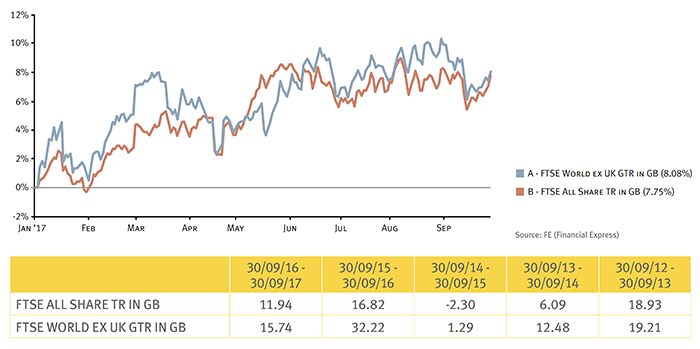 Many global equity markets have seen double digit returns in 2017, although the partial reversal of the weakness in sterling that was seen after the EU referendum has taken the edge off returns for UK based investors. Over the quarter international equities gained 1.7% in sterling terms, taking the 9 month return to 8.1%. Emerging markets and Europe saw the best returns over the quarter and also lead the way in 2017.
The UK equity market has lagged behind other regions in local currency terms in 2017 but has still delivered solid gains. The quarterly gain of 2.1% took the 9 month return to 7.8%, with the small and mid capitalisation indices continuing to outperform the larger company focused FTSE 100.
The UK commercial property market has continued to deliver steady gains, with estimated third quarter and 9 month returns of around 2% and 7% respectively.
With interest rates remaining at 0.25% the returns from cash deposits remained very low and are well below the level of inflation.
Please remember that past performance is not a reliable indicator of future results. The value of investments and the level of income received from them can fall as well as rise, and is not guaranteed.
You may not get back the amount of your original investment.