In the second quarter domestic developments saw the unexpected loss of an outright Conservative majority following the snap election alongside growing signs of weakening economic confidence. However, global news was broadly positive with encouraging economic and corporate data helping to support equity markets.
Politics was never far away from the headlines, but the clear Macron victory in France continued the recent run of market friendly continental European election results whilst President Trump struggled to make headway with his policies.
The US continued to raise interest rates and there were growing indications that the global period of exceptionally loose monetary policy may be reaching a turning point. This resulted in higher yields and lower prices for government bonds.
Despite weakness in June after the election, UK equities still managed a gain of 1.4% in the second quarter which took first half returns to 5.5%. Commodity weakness held back the FTSE 100 and enabled the small and mid capitalisation indices to show the best growth.
Recovery of property returns post EU referendum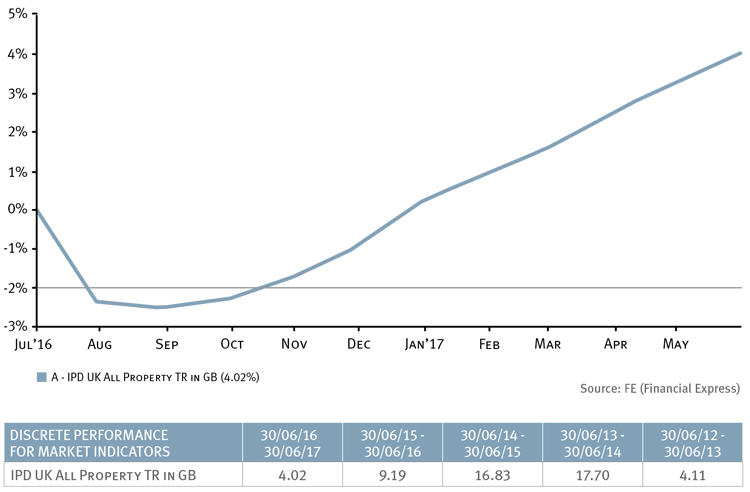 International equity markets saw further widespread gains, but currency moves reduced overall World ex-UK returns to just 0.5% for the quarter and 6.3% for the first half. Improving investor sentiment towards Europe boosted the euro and Europe ex-UK saw the best quarterly and year to date returns for a UK investor.
Many central banks are now beginning to more actively consider when to start gently normalising interest rates and reduce quantitative easing and his put some upward pressure on government bond yields. Over the quarter gilts and index-linked bonds fell by 1.3% and 2.3% respectively, whilst corporate bonds gained 0.5%.
The overall UK commercial property market has delivered steady gains in 2017, with estimated second quarter and first half returns of around 2% and 4% respectively. With interest rates remaining at 0.25% the returns from cash deposits remained very low and well below the level of inflation.
Please remember that past performance is not a reliable indicator of future results. The value of investments and the level of income received from them can fall as well as rise, and is not guaranteed.
You may not get back the amount of your original investment.