Four High Performing Postgraduate Students to Receive NFU Mutual Charitable Trust's National Agricultural Award
Four postgraduate agricultural students from across the UK have been selected as this year's recipients of The NFU Mutual Charitable Trust's 'Centenary Award'.
Launched by NFU Mutual to celebrate its 100th birthday in 2010, the annual award scheme provides bursaries of up to 75% of course fees for selected postgraduate students in agriculture. To date, 33 young people have received help through the award to further their education.
NFU Mutual has provided £250,000 to fund the award programme, which is expected to run until 2020.
The four selected students for 2017 are:
Ella Forrest from West Yorkshire: MSc Ruminant Nutrition, Harper Adams University
Callum Weir from Cambridgeshire: MSc Agricultural Economics, University of London
Emma Caudwell from Lincolnshire: MSc Rural Land and Business Management, University of Reading.
Joe Collins from Shropshire: MSc Sustainable Crop Production, University of Warwick
Announcing the recipients for 2017, Richard Percy, NFU Mutual Chairman, said: "NFU Mutual is the leading rural insurer for the rural community, and we recognise the crucial role students in agriculture play in shaping the future of the industry. Our aim for the Centenary Award scheme is to create a long-standing legacy, and demonstrate our commitment to young people and the countryside."
To select the students, the judging panel looked to award individuals who were not only excellent academic performers, but were also passionate about making a difference within the UK agricultural industry.
Mr Percy added: "We are delighted to be supporting Emma, Joe, Ella and Callum with their studies, and wish them all the very best for the future."
Centenary Award bursaries will again be available in 2018. Applications for the award next year will be invited from the start of January 2018. Information about the scheme can be found on the NFU Mutual website: www.nfumutual.co.uk
In the meantime, prospective post graduate agricultural students who would like to find out more about the award can contact centenary_award@nfumutual.co.uk.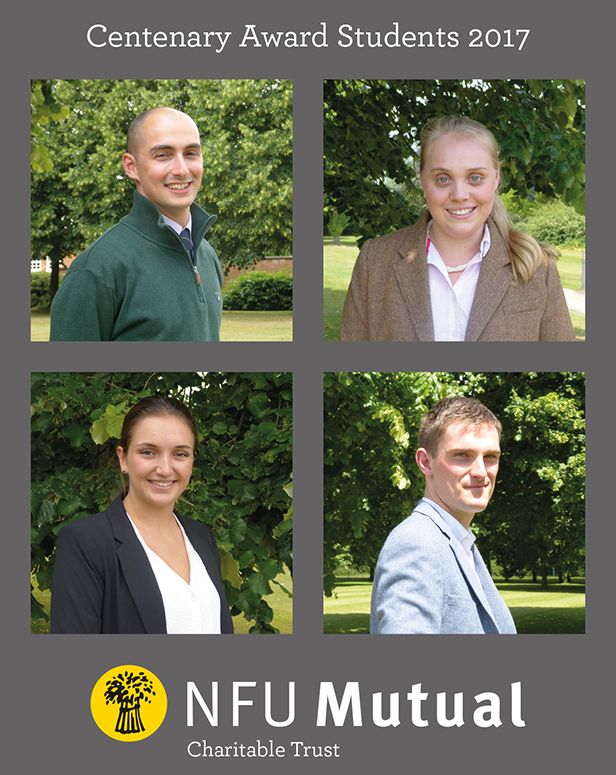 Top row: Callum Weir and Ella Forrest
Bottom row: Emma Caudwell and Joe Collins