Uncertainty goes hand-in-hand with financial markets. This means they have a habit of surprising investors; you only have to look at the events of 2016 to see that.
For example, at the start of the year, experts were worried about the potential effects of the EU Referendum, the US Election and an Italian Referendum, and many commentators feared stock markets would suffer.
In fact, despite a surprise Brexit vote and a change in Prime Minister, the UK stock market reached new record highs. If you had panicked and sold your investments because you thought the stock market might fall, you would have missed out on some strong gains.
Don't get carried away
This is exactly why experts advocate investing for the long term, rather than trying to predict what the stock market will do in the short term – 'time in the market' rather than 'timing the market' – as well as having a diversified portfolio.
"Last year was an example of why you shouldn't get carried away with guessing how the stock market will react to news," says Matthew Bennett, investment manager at NFU Mutual.
"Investment returns tend to be lumpy rather than uniform, rising one year and falling the next. Keeping your money invested for at least five to 10 years can lead to better results."
It's a strategy which is easier said than done. When you see the value of your investments fall, it is very easy to get spooked and difficult to resist the urge to move your money. Performance fluctuates each year, and past performance is never an indication of what will happen in the future.
Why the right strategy matters
Bennett says: "Holding steady when the market is falling is one of the hardest things to do – but this can be the best time to stay invested, and even to consider investing more." It is also why he believes investors should not check their investment portfolio too regularly.
Long-term investing means you have time to ride out the dips in performance. It can be disconcerting to check your portfolio and see its value has fallen. Keeping a longer term view is important.
Spreading your money across different assets and regions also helps to lower risk. Different investments will perform better at different times, so by spreading your money across a range of investments, the theory is that your investments should avoid being hit all at once.
This is known as diversification. If you invest in one single company's stock, you are relying solely on its fortunes. If you invest in a fund that holds the shares of, say, 80 different companies, then negative performance is mitigated, although so is any growth.
Ten year Market asset returns
How the markets have performed in the last decade
This market asset returns chart shows how different investment asset classes have performed over the last 10 calendar years. Each asset class has been ranked, with one being the top performer for the year and 11 being the worst. Also shown is the percentage performance for each asset. No single asset class has been consistently at top or bottom over the 10 year period. Predicting which will be the best and worst each year is difficult, having a diversified portfolio representing a wide range of investment types and assets is worth considering. The coloured key identifies the asset class and the relevant index.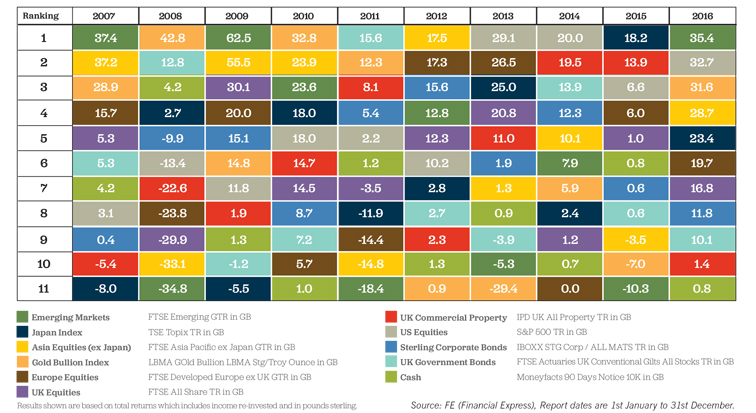 What do the numbers say?
The figures in the chart above show performance over the past 10 years; they indicate just how much investments can fluctuate each year. For example, Emerging Markets had a return of 37.4% in 2007, before plunging by -34.8% in 2008. Then, in 2009, they returned 62.5%. It has been a rollercoaster decade, with big swings in performance. It shows exactly why investors are so often encouraged not to base their investment decisions on what has already happened.
The value of holding tight
"Investors tend to put too much emphasis on recent performance, but to see the real trends you have to look over a much longer period," says Bennett. "Returns are not even. If you try to guess when the market will rise and fall you will likely get it wrong and miss out."
You need to know
Past performance is not a reliable indicator of future results.
The value of your investment can rise or fall and you may get back less than you have invested.
Changes in currency exchange rates may also have an adverse effect on the value of overseas investments.
Get in touch
To find out more about investing with NFU Mutual speak to your local NFU Mutual Agent or phone 0800 056 0142 (select option 3) and we will put you in touch with your personal Financial Adviser.
NFU Mutual Financial Advisers advise on NFU Mutual products and selected products from specialist providers. We'll explain our services and charges.