When Sue Ansell became critically ill, it was a tough time for the whole family. Husband Martin, pensions expert at NFU Mutual, tells their story and why having protection cover was so crucial.
Around 25 years ago, my wife Sue and I were moving to another house, so we increased our mortgage to £72,000.
We were asked if we would like to protect ourselves, not just in the event of dying, but also in the event of a critical illness. At the time, the price quoted was too high. However, we did think it would be sensible to have some cover in place. We thought it unlikely that both of us would ever have a critical illness at the same time. We decided to do half, £36,000 as this would at least pay off half of the mortgage should anything happen.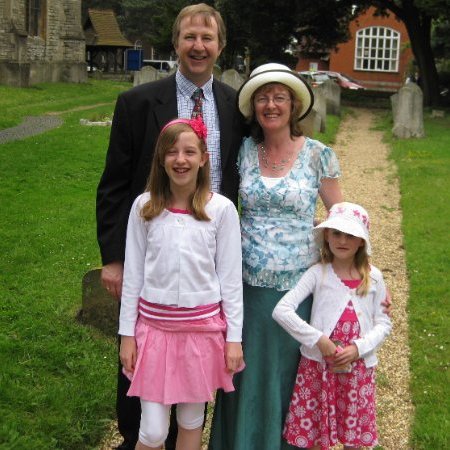 Martin, Sue and their two daughters
Sometime later, Sue began to feel unwell. She would lose the ability to speak or understand people – just for a minute or two. She would hear people saying something, but she could never remember it when she came round. So we tried to ignore it for a while, then one day she lost consciousness. We had it investigated, and the hospital told us it was a tumour in the brain, and it would kill her unless we allowed the doctors to operate. At the time, you're facing the uncertainty of the tumour, the operation, the children – all the emotional baggage. The last thing you want, on top of all that, is to have financial worry.
Luckily, the critical illness cover did exactly what it said on the tin. It gave us a lump sum, paid off half the mortgage, and we just relied on the one income rather than the two.
So suddenly the pressure of the mortgage, such a big part of people's finances, was eased. It took away such a great part of the worries we faced, which was fantastic.
Thankfully Sue has made a recovery. She's still on medication and suffers from short-term memory problems. And she's unable to do things like work, or drive. But she is able to live her life and do the things that really matter, like seeing her kids grow up.
You can't insure against emotional problems but you can insure against financial ones. Do what you can afford and review it regularly.
YOU NEED TO KNOW
Critical illness cover provides protection for illnesses and conditions specified in the policy.
NFU Mutual Financial Advisers advise on AIG Life protection products
GET IN TOUCH
If you would like to know more about protecting you and your family, speak to your local NFU Mutual Agent who will put you in touch with your personal Financial Adviser. Alternatively call 0800 056 0142.