Despite the continued uncertainty, we all still have financial goals that we want to achieve.
It may be planning for retirement or buying a house. Putting these plans on hold may make them more difficult to achieve in your desired timeframe.
Things to consider:
It is more important to think about how you can safeguard your future in uncertain times
It is important to have a plan in place regardless of the environment
Making plans now can pay dividends in the future, while not having them in place can make achieving them more difficult in the longer term.
Over the long term, markets have recovered from major economic and political events and those that have stayed invested have benefitted from the recovery and subsequent market upturns.
The graph below illustrates a number of key events over the past 30 years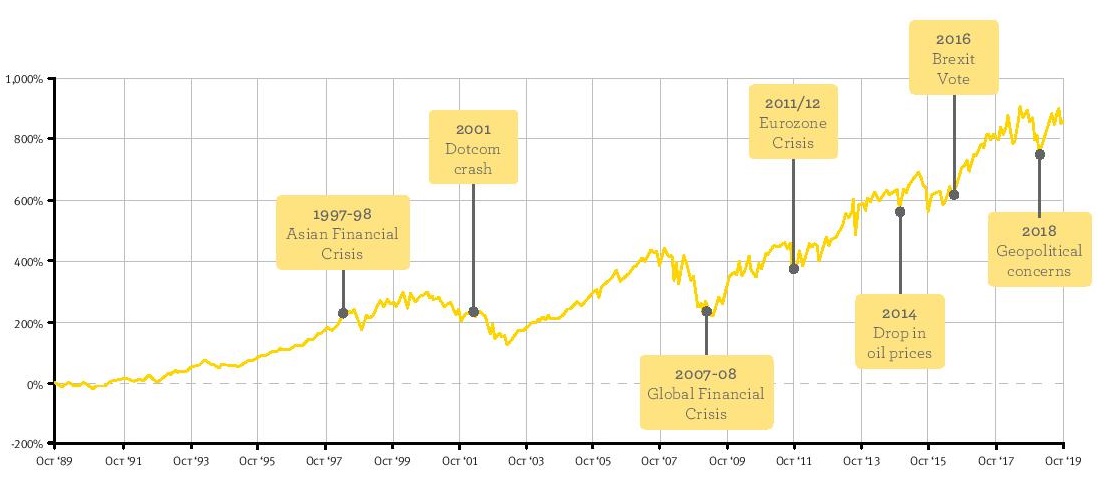 The yellow line represents: FTSE All Share Index with income reinvested, 29/09/1989 - 30/09/2019. Source: Financial Express 2019.
| | |
| --- | --- |
| | FTSE All Share with income reinvested in Sterling |
| | |
| | |
| | |
| | |
| | |
FTSE All Share. Income reinvested. Source: Financial Express 2019.
Key Messages for our customers:
Keep calm when investing – understanding your risk appetite and investing on this basis is important
Our investment team are working for you to closely monitor markets
We have a tried and tested investment process which invests for longer term
Volatility can create opportunity. Our investment team can look to take advantage of these times where they feel there is value in the longer term, which can have a positive impact on performance.