NFU Mutual Ashford, Tenterden and Whitfield sponsors the Gusbourne Run
NFU Mutual Ashford, Tenterden & Whitfield have proudly agreed to sponsor The Gusbourne Run this July, supporting three great businesses across a single day. The Gusbourne Run is a unique, picturesque event for Kent taking place within the vineyards themselves. The day is the perfect opportunity for local runners, sightseers and wine drinkers to come together to experience a 10k and 5k.
Organised by Sporting Events UK, the Gusbourne Run has a great atmosphere, with the wine stops, a mini Event Village and plenty of space to relax and enjoy the surroundings when runners have finished. There is a choice of a 10k or 5k route around the estate with hills and terrain that is off-road, and views that more than make up for the effort. Both the 10k and 5k offer runners the opportunity to taste award-winning English Sparkling Wine from Gusbourne - so over 18s only for this one.
Gusbourne first planted vines back in 2004 with the vision to create the finest vintage wines using grapes exclusively from their vineyards. They grow the highest quality Chardonnay, Pinot Noir and Pinot Meunier grapes across their Estate, with 60 hectares in Appledore, Kent and 30 hectares next to the Goodwood Estate in West Sussex. The Gusbourne Run will take place at the Appledore estate. Gusbourne sparkling and still wines continue to win prestigious national and international industry awards every year.
On the Event, Gusbourne founder Charlie Holland said:
"It's a thrill to have Sporting Events UK returning to host the Gusbourne Run. In previous years, the event has always been well received by the runners and their families, and it's great to see new and familiar faces running the circuit. This year, we also welcome NFU Mutual Ashford, Tenterden & Whitfield who we have an excellent partnership with and their support is very much appreciated. We will have plenty of full glasses of Gusbourne's finest wine for our runners to sample during the course!"
The sponsorship is not only an opportunity for NFU Mutual Ashford, Tenterden & Whitfield to support Gusbourne Estate with one of their key 2022 events but also two other great local companies. The Gusbourne Run would not be possible without the hosts Sporting Events UK who continue to coordinate the event year after year. Voted the "Best Running Events Management Company 2021" in the Southern Enterprise Awards, Sporting Events UK is a leading events management organisation specialising in the running sector. They offer a full catalogue of events cross the South East, offering experiences that everyone can take part in.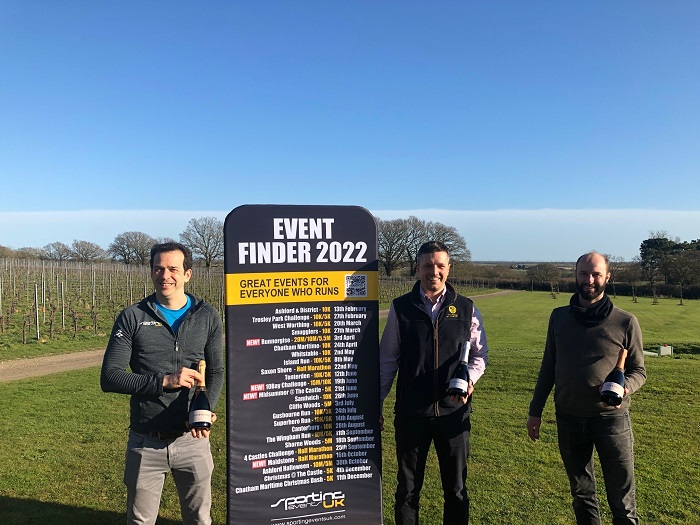 Barry Hopkins of Sporting Events UK said:
"The Gusbourne Run really is one of the highlights of our Sporting Events UK calendar. Year after year, we have lots of runners sign up for the event and this year is no exception. Running through the beautiful vineyards is an absolute joy for both returning and new runners, and we are delightful to have the support of NFU Mutual Ashford, Tenterden & Whitfield this year for the event. It is a special event, with such a great atmosphere, with lots of runners and supporters staying to relax after the running is complete".
NFU Mutual Ashford, Tenterden & Whitfield Senior Partner Doug Jackson said of the sponsorship:
"There was no hesitation to sponsor this event; Gusbourne is a beautiful venue, the perfect setting for a summer run. We have a great working relationship with Gusbourne and we're really pleased to have built a new partnership with Sporting Events UK. This isn't just an event we're simply sponsoring but also one our more competitive members of our team can take part in. Our team will be fundraising for Dandelion Time, an incredible charity that offers help to children with challenging emotional issues. We're really pleased to be supporting a variety of great local organisations within one event as we continue to be an advocate for supporting our community."
The Gusbourne Run takes place on the Sunday 24th July and is open to all entries above 18. Every finisher will get a great medal to mark the occasion and with wine tasting stops throughout the run, this will be an event that appeals to many. To book your place on either the 10k or 5k or to learn more about the event, visit Sporting Events UK.
You can also follow Gusbourne, Sporting Events UK, NFU Mutual Ashford, Tenterden & Whitfield & Dandelion Time across their social channels, to learn more about the event.