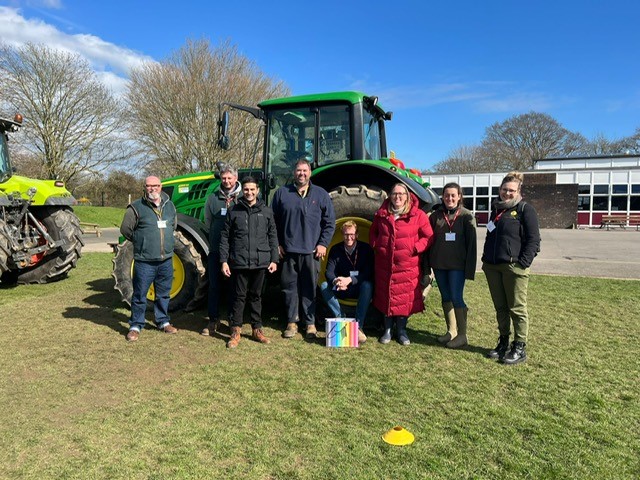 Latest News
The Chichester, Horsham agency teams have been very busy over the summer.
We've had the annual West Grinstead Ploughing Match which saw, 4,000 people attend. We teamed up with the Chichester and Steyning Young Farmers where we were able to show sheep, give children the opportunity to 'milk a cow' (not a real one) and turn wheat into flour. As seen in the picture, Group Secretaries Chets Modi and Matthew Baker were delighted to win the prize for 'Best Stand'.
We held our annual James Wiseman Memorial Golf Tournament. As always, the tournament was very well supported and we were blessed with the weather.
Finally for this month, we've been to Chichester Cathedral for the annual Celebration of Farmers and Growers. The service was wonderful, our County Chairman, Dominic Gardener gave an excellent heart felt presentation reminding us to look after each other and stay safe. As seen in the picture, the Cathedral is looking stunning at the moment with 15,000 Doves hanging above the congregation.
Farm Safety
At NFU Mutual Chichester and Horsham agency we know just how dangerous Farming can be. It's why we were delighted to host an event ahead of the 2023 harvest for 35 Farmers and Farm Workers helping them to identify risks around their farms. The session was really well received, we heard comments like, "this has been a real eye opener" and "I'm so glad to have refreshed mine and my teams knowledge ahead of our busiest period".
We'll be hosting more events like this in the future and if you'd like any advice around Heath and Safety for your farmplease get in touch.
Fishbourne school farm day Chichester & Horsham
The Team at NFU Mutual Chichester and Horsham agency were delighted to be able to help bring farms to schools.
Agents, Chets Modi and Matthew Baker supported by Nicky Dempsey and Sophie Baker were on hand to ensure 210 school children at Fishbourne Primary School got to find out about arable, livestock and mixed farming as well as the environment from four fantastic local farmers, Phil Veltom, Andrew Gentle, Rupert Hoare and Josie Rowsell.
Head teacher, Naomi Day commented – we were blessed with the weather and pupils and teachers have had a fantastic informative day, thank you so much for your time.