Ice cream diversification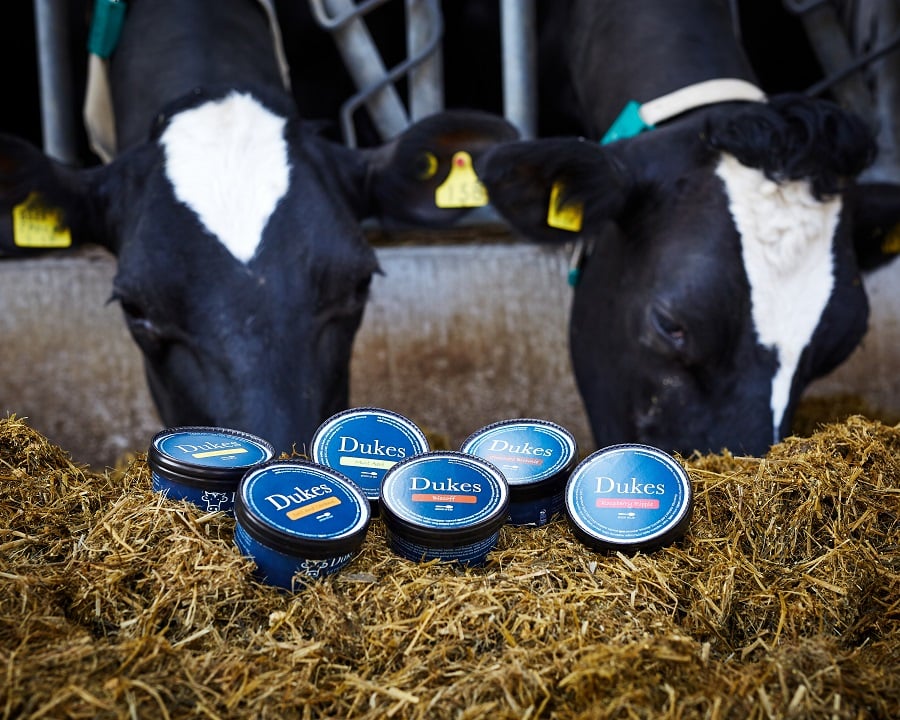 A love of ice cream inspires dairy farm diversification
For Jonny Campbell, launching a premium ice cream business on his family dairy farm in Co. Tyrone, Northern Ireland was a no-brainer – he simply loves top quality, very creamy, ice cream.
Ice cream making began as a hobby, Jonny explains: "My wife Natasha and I are addicted to ice cream, but we couldn't get any during lockdown. So, I bought a Magimix and started making my own. I started giving it to people and soon realised it was better than you'd get in ice cream shops."
Quality ingredients and word of mouth attract locals
What started as a hobby resulted in last year's launch of Dukes Ultra Premium Ice Cream on the farm. Locals travel miles to the small shop, which is unstaffed and run on an honesty basis, and is open to customers 365 days a year from 10am to 10pm. 
As well as a very creamy ice cream, the emphasis is on quality ingredients and Jonny sources as much as he can from local suppliers. For example, he says: "We work with a local baker, who makes brownies and caramel to put in the ice cream."
This focus on quality is crucial for Jonny; for him, the only way to successfully launch a venture on your farm, is to "keep it unique, or do it better".
Jonny, who is the driving force behind the ice cream venture, emphasises that the business remains small. But, since starting in July 2022, thanks to word of mouth and social media, it is fast-expanding, and is already being served at weddings and events. Also, in its first year of business alone, it won three Great Taste Awards.
Jonny says: "Even though our farm is remote, people of all ages come along to buy our ice cream. It's become the cool thing to do among young people. The farm is always chaotic, with chickens out and about, and you drive past cows to get to the shop, but people seem to really like that."
A labour of love
While many farmers launch new ventures to create alternative revenue streams, Jonny says money wasn't his main motivation for launching the Dukes business; instead it was a way to launch and run his own passion project. "It was something for my wife and I to do on our own. My dad is still very much the lead on the farm. But with Dukes I can make decisions and run with it - if something goes wrong, I've only got myself to blame."
Another smaller venture on the farm that helped provide some cash to get the ice cream business going is 'wild' camping. Jonny says: "We started wild camping on the farm last year. We have a massive woodland of around 20 acres that's not really used. People love it, and for us it involves no investment at all. It's been a good help to get working capital for the ice cream business."
Jonny remains committed to working on the farm, alongside his father Billy, uncle Colin and brother Ashley. He says: "It's a family farm that my dad and uncle effectively started from scratch and has grown to milk over 300 cows. We have two robots and milk the remainder in our milking parlour. We have a strong emphasis on cow comfort with cows sleeping on water beds." Environmental protection and sustainability is taken seriously on the farm, and the family have gradually put in place technologies such as solar panels, heat recovery pumps and a plate cooler for the milk, while also reducing energy use.
Amid his busy farm work, Dukes is a labour of love for the family, and Jonny in particular. He says: "It's a huge time commitment on top of a full time job farming. My advice to other farmers would be to do something you enjoy, as it takes so much time."
Jonny also suggests that farmers looking to diversify should make the most of the expertise in their local farming community. "The farming community is very helpful. If you have a problem, they will help you," he says.
To find out how NFU Mutual can help with your diversification journey, contact your local agency.