We caught up with one of our local dairy farmers, James Morgan from Penuchadre Farm, to speak about their new venture; an organic Milk Hut. The Milk Hut opened in December 2020 and has been extremley popular with locals and people from further afield.
Here's what James had to say about the Penuchadre Milk Hut:
Where did the idea come from?
"It was something that we had been thinking about for over 12 months, as a way to share our organic milk directly with the locals in our village and the villages nearby.
When COVID-19 locked everyone down, we saw that people had far more time on their hands and were taking a far greater interest in where food came from, with a massive focus on sustainability and supporting local businesses.
We have championed these ideas for years, so decided to take the plunge. The Milk Hut opened before Christmas and the support has been incredible."
Tell us a bit about your business?
"We are a family run organic dairy farm, with a herd of 120. The farm is run by my dad John, daughter Caroline and son, James, with lots of help from the rest of the family. We have farmed at Penuchadre for seven generations and can trace our roots at the farm back to the late 1700s.
We got our organic certification in 2000 and in 2018, and invested in a brand-new milking parlour which really transformed how we operate. The old parlour, being the original stone built one, was a pretty building but was completely impractical for a modern farm.
We have kept our herd to a manageable size to make sure the girls get the best quality of life."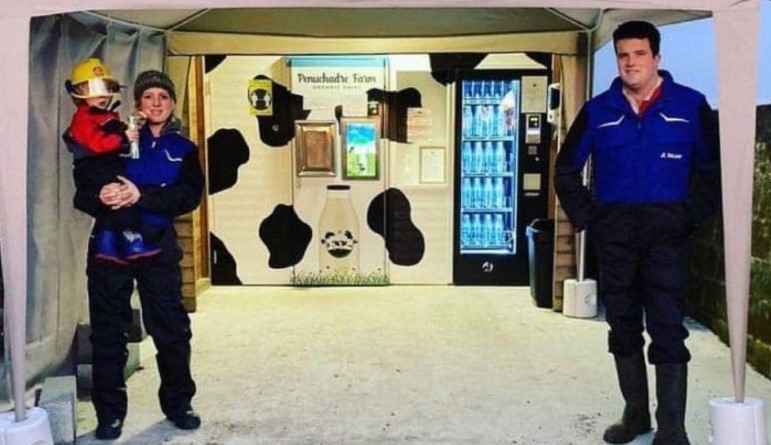 Have you faced any challenges?
"We learnt very quickly that we had underestimated demand for the Milk Hut. In the first week of opening, we had to triple the size of our pasteurizer and desperately get hold of a big supply of the milkshake flavours – neither were easy in Christmas week!
That same week, Storm Bella taught us some lessons about building gazebos. Everyone has been amazing though. I think the customers know we are a small family team, not a massive supermarket with an army of staff, and have been really understanding."
Do you have any plans for the future?
"The key priority at the moment is to maintain what we have achieved. The Milk Hut is incredibly popular, and we want to keep people happy, so that they can keep enjoying our organic milk.
We have a lot of conversations, usually at the end of the day, about big plans for the future… a #TheMilkHut trailer to attend shows and outdoor events… open days so people can meet our cows… supplying local cafes/restaurants… most of these ideas need COVID-19 to go away.
But it is still very early and for now the focus is on servicing what we already have.
Make sure to follow us on Facebook and Instagram. Penuchadre organic dairy – The Milk Hut to keep up to date with what we're doing."
What's your best-selling flavour?
"Tricky question, everyone loves different ones. The standard chocolate flavour seems to be popular with everyone. White chocolate had a lot of love when that was our special, but caramel and mint chocolate had lots of fans too!"