The fifth edition of the Ride the Trafalgar Way took place over the weekend 28th – 29th September 2019, which also happened to be the birth date of Vice-Admiral Horatio Nelson in 1758.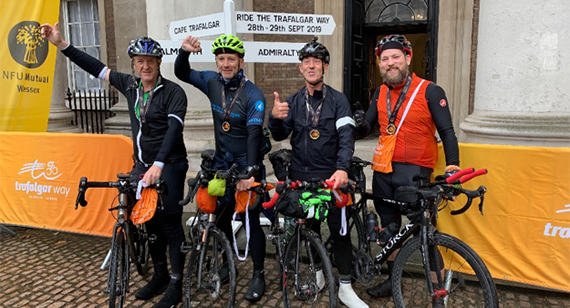 Ride the Trafalgar Way is a 500km unsupported cycle ride from Falmouth to the Admiralty, London and must be completed in within 33 hours.

On Saturday 28th September, at 06:00, the largest number of riders, to date, gathered for the start at Pendennis Castle, Falmouth in dark, dry and calm weather conditions.

By mid-morning the weather had changed from dry sunny spells to relentless wind and rain, which would then follow the riders across southern Britain for the subsequent 20 hours. The wind and rain would eventually take its toll and halve the number of riders taking part, with most 'packing' either before or at Salisbury.

The 2019 first finisher was Simon Neatham, from Barnet, who also became the first person to ride the 3100km Trafalgar to Trafalgar (Cape Trafalgar, Spain to Trafalgar Square, UK) and the 500km Ride the Trafalgar Way in the same year.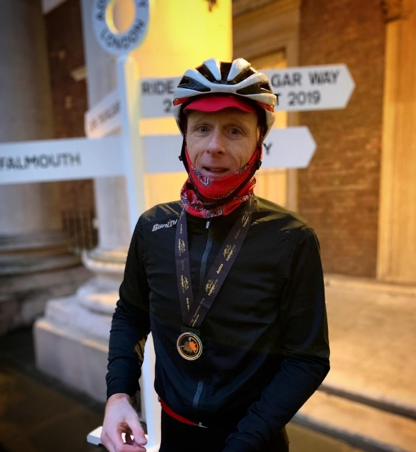 Earlier in the year Jasmijn Muller and Mel Wasley became joint third female riders to successfully complete the 500km ride.

Lee Killestein, pending confirmation, successfully completed the ride and in the process sealed his position as the 2019 AUK Points Champion.

Those riders who successfully completed the 2019 ride definitely deserve their place in the Ride the Trafalgar Way Hall of Fame, given the atrocious riding conditions.

Jim Bellinger, joint founder of Ride the Trafalgar Way said, "We are a Salisbury based company with a proposition packed with history and such a stunning route. It is fantastic to be partnering with NFU Mutual Wessex, who have such a rich heritage, are based in Wilshire and Dorset and are positioned at the midway point along the Trafalgar Way. Looking ahead we are delighted to announce that the 2020 edition of the ride will once again be sponsored by NFU Mutual Wessex. We would like to thank NFU Mutual Wessex for their continued support."

Simon Hedges, Agent NFU Mutual Wessex, said, "We are delighted to support the RTTW again next year, and are proud to enable such a worthy and historic event to take place that the whole community can enjoy."

The 2020 ride will take place over the weekend of 27th – 28th June. Entries for the 2020 ride open on 6th November 2019, the date in 1805 when the first dispatch arrived at the Admiralty with news of a British victory and Nelson's death following the Battle of Trafalgar.

For further information
For more information on the range of NFU Mutual insurance services, or NFU Membership, please feel free to contact either the Salisbury or Wareham office of the Wessex agency:
Salisbury
01722 331062
Salisbury_agency@nfumutual.co.uk
www.nfumutual.co.uk/salisbury

Wareham
01929 553472
Wareham_agency@nfumutual.co.uk
www.nfumutual.co.uk/wareham