Scooping industry awards is one of the ways we're recognised for the high standard of service and cover that our customers have grown to expect.
Discover our latest awards and industry ratings:
WHICH? INSURANCE PROVIDER OF THE YEAR 2018
We have beaten some of the biggest names in British insurance to win the prestigious Which? Award for Insurance Provider of the Year 2018.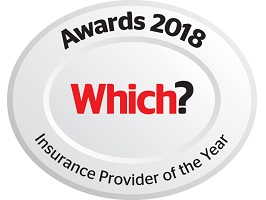 The Which? Awards are completely independent. Unlike some industry awards, a company cannot nominate themselves.
So we are delighted to be recognised once again for delivering quality products and services, and our commitment to meet and go beyond the expectations of our customers to respond to their needs.
Winners are chosen by an expert panel, based on Which?'s independent research and testing, as well as the views of Which? members and the general public.
Which? Recommended Provider for Home and Car Insurance
We have been named Which? Recommended Provider for Car and Home Insurance.
To compile the list of Recommended Providers, Which? combine their latest customer satisfaction results along with an assessment of each provider's policies to select top providers in the market. Which? only recommend insurance providers that offer both a high quality product and high standard of customer service.
Moneywise Customer Service Awards
We picked up an award from the Moneywise Customer Service Awards 2018, winning Most Trusted Home Insurance Provider for the sixth year in a row.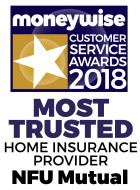 Defaqto 5 Star Ratings
We are extremely proud of the fact that both our Home Insurance polices, Home and Lifestyle Insurance and NFU Mutual Bespoke Home Insurance, plus our Car Insurance have received the maximum 5 Star Rating from Defaqto, who are a leading UK independent financial research company.
Whenever a Defaqto 5 Star Rating is displayed you can be sure that the product offers excellent cover.
Find out more information about the Defaqto 5 Star Rating.
Auto Express Driver Power 2018 Insurance Survey
We are a Gold Winner of Best Insurance Cover in the Auto Express Driver Power 2018 Insurance Survey.