Protecting dairy cattle from heat stress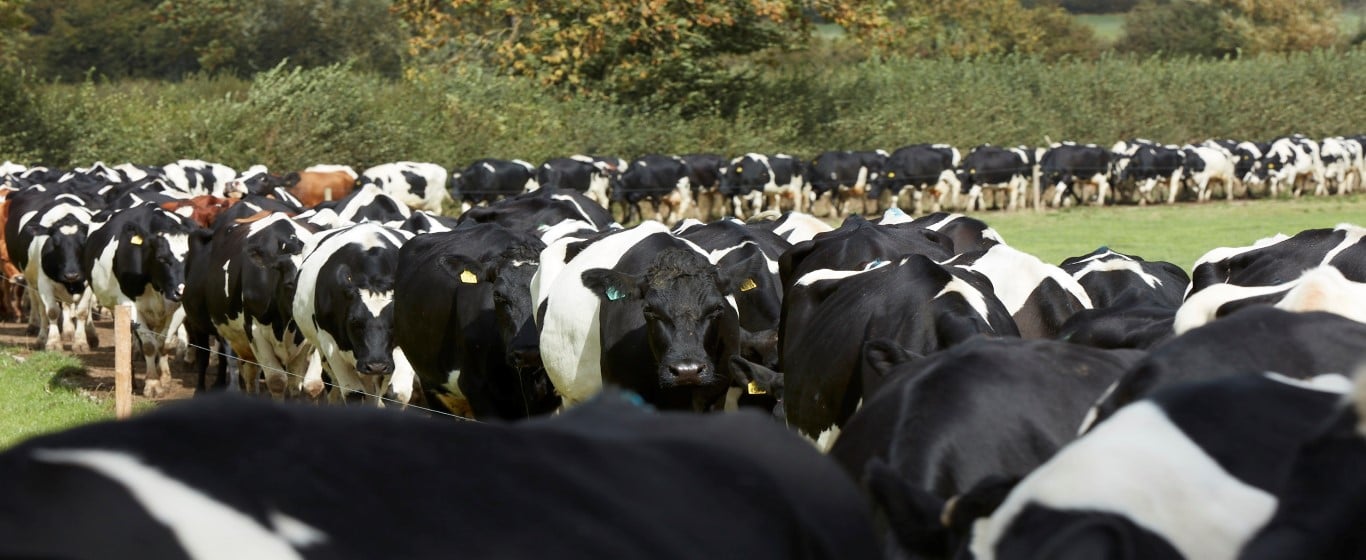 What is heat stress?
Heat stress occurs when cows retain more heat than they can release, affecting both indoor and outdoor herds.
The cause is due to an increase in temperature when there's high ambient humidity in the local environment. To monitor heat stress levels, the industry uses the Temperature Humidity Data (THD) which indicates how severe the condition could be and suggests that action needs to be taken.
Why is heat stress a problem?
Heat stress amongst cattle continues to be a significant issue for farmers. In recent years industry studies have highlighted the condition and the impact it can have on farm businesses. It's generally acknowledged that heat stress can result in:
Reduced milk yields from cows
Reduced farm income, putting pressure on fine margins and profitability
Health-related issues such as increased risk of disease, lameness and reduced fertility.
To understand the impacts of heat stress we consulted with Dr Tom Chamberlain, a leading expert on the impacts of heat stress on UK dairy farmers.
Dr Chamberlain's 2022 study, in conjunction with Lallemand Animal Nutrition, found that across the nine farms within the study group, heat stress led to an average loss of production ranging from £24,000 to £90,000 depending on herd size.
As the UK's leading rural insurer, we've undertaken our own research with dairy farmers to understand how they feel about the risks caused by heat stress. Furthermore, farmers tell us they're not always aware of the extent of the financial losses they're suffering from heat stress in cattle. Our latest research has found that just over four in ten (41%) say that heat stress is a priority risk for their business while 70% are yet to take further steps to reduce the risk.*
We encourage farmers to consider potential measures to address heat stress on their farms by developing a heat stress management plan that incorporates infrastructure improvements to both indoor, outdoor areas, and paddocks. Farmers can also improve existing buildings through the installation of heat stress alleviation systems.
Should you suspect heat stress with your dairy cattle this summer Dr Tom Chamberlain highlights some of the key actions that you can undertake to reduce heat stress whilst cows are grazing.
Short-term actions
Providing suitable access to water troughs and ensuring that they are in good working order
Ensuring water pipes are in good condition, have no leaks, and that the flow rate to the troughs is sufficient
Identifying paddocks that have greater shade availability and utilising these on hot days
When buffer feeding adding suitable feed additives to ensure cattle are receiving peak nutrition.
Medium-term actions
Implementing 'Siesta' Management where appropriate – this technique involves cows grazing directly after milking and then being 'housed' at around 10am, with buffer feed available to them. Cows are then sent back out to graze after afternoon milking to graze until dusk
Installing greater numbers of water troughs in key locations so that cows are never more than 100m away from a clean water source
Adjusting milking times to coincide with the cooler periods of the day
Installing shade and fans in holding yards.
Long-term actions
Implementing a tree planting programme at the boundaries of grazing paddocks to provide suitable levels of shade within the grazing environment
Reviewing breeding plans to focus on genetic strains that have greater heat tolerance levels.
Hopefully, with some or all these measures in place, it will help reduce the negative impacts that heat stress can have on a herd's productivity and general welfare.
*Source: Dr Tom Chamberlain & Lallemand Animal Nutrition, November 2022