Business Protection
Preparing your business for flood risk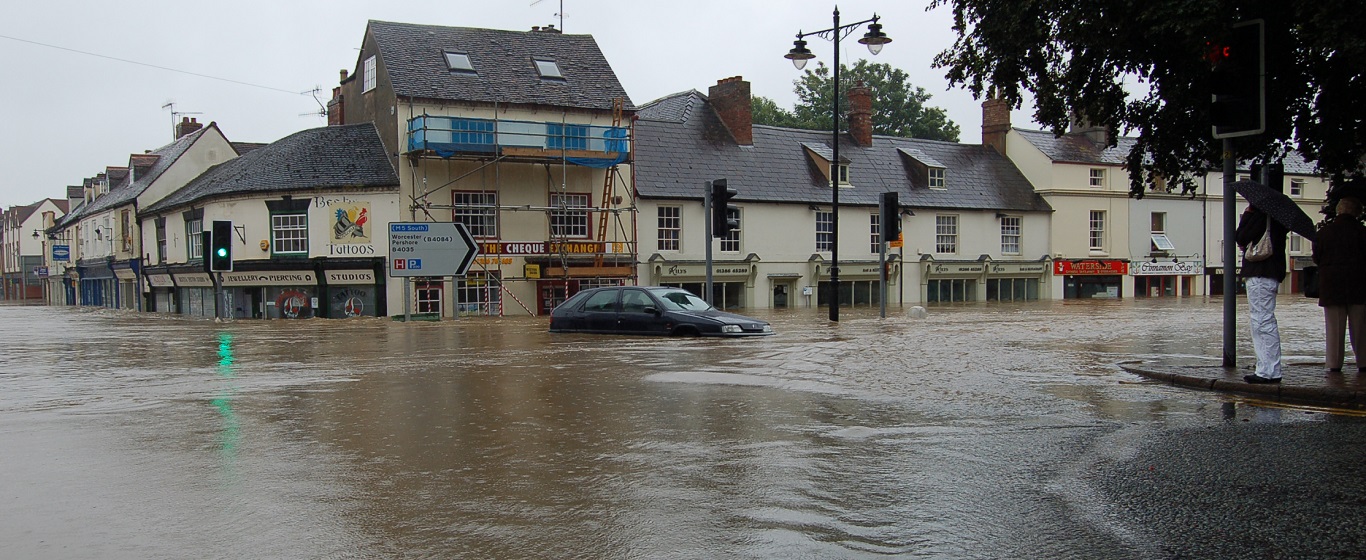 As a result of climate change extreme weather events, such as flooding, are becoming more frequent.
Over 300,000 commercial properties in the UK are considered to be at flood risk and small businesses represent a high percentage of this total. 
The impact of flooding can be significant, and the extent of flooding will affect how long it takes to return to business as usual, retain or reclaim customers and ultimately, survive.
So, it's important for businesses to prepare appropriately for this risk.
We have partnered with Inoni, business continuity experts, for a series of articles on business risk and continuity planning aimed at small to medium sized businesses, including how to protect your business from a flood risk.
Is my business at risk from floods?
All businesses are at some risk of potential flooding. From high pressure pipe bursts to runoff and sewer failures, to the flash flooding that now affects all areas of the UK.
A business's susceptibility to flooding isn't simply a question of geography. The extent of the risk depends on the type of business. For example, compare a service business running on cloud software, to a manufacturing or retail business of a similar size, turnover and headcount. The service business can easily and quickly relocate almost anywhere, whether its homes, cafes, rented offices. However, the manufacturer or retailer can only wait until premises are clean and safe for staff to re-enter, before re-commissioning the entire production environment and re-stocking. Delays are potentially measured in weeks or months and inevitably pose a serious threat to the business.
If you're in any doubt about your business's flood risk, then consider commissioning a site flood check from a professional agency or consultancy, so you know what you are facing.  You can also access official flood risk data about your site from Gov.uk. 
How to reduce the risk of flooding
As always, the measures you implement to protect your business against flooding need to be balanced against the risks you face. Here are some measures that could reduce the chances of a flood, or reduce its impact:
Understand the extent of the risk by finding out what flood zone you are in and learning your site's Base Flood Elevation (BFE)
Buy yourself time by signing up to receive flood warnings using the Environment Agency's Flood Warnings Direct service
Protect your building:



o  Raise electrical installations, sockets, fuse boxes and wiring from ground level

o  Invest in guards for external doors and covers that can be fitted to ventilation bricks

o  Install non-return valves to drainage pipes

o  Raise damp-proof courses and seal floors, install heavy duty high-rise racking for stock

o  Store paper records on upper levels

o  Install a sump pump backup

o  Anchor fuel tanks

o  Know the location of disconnect valves and cut-off points (gas, water, electricity)

o Provide backup power

o Employ dry floodproofing techniques.
If you operate from a rented building, then it's important to always check the rental agreement and responsibilities, to ensure the building is adequately protected.
Be prepared
From a business continuity standpoint, it makes sense to have a plan in place should a flood occur. Consider the following in your plan:
Work-from-home capacity
Production outsourcing
Rented space
Resilient cloud or offsite IT backups
Spares
Supplier relationships
Ensure you have appropriate business interruption cover in place.
Ideally, prepare adequate defences and make changes that will allow you to resume business quickly and safely after any flooding subsides.
We are working together with Inoni to bring you insight into resilience, risk and continuity planning to help make your business stronger. If you feel your business would benefit from specialist support to develop your Business Continuity Plan, please send an email to our partners Inoni, who can explain the services they offer.
If you feel you need support with your Business Insurance needs, please get in touch with your local NFU Mutual agency office.