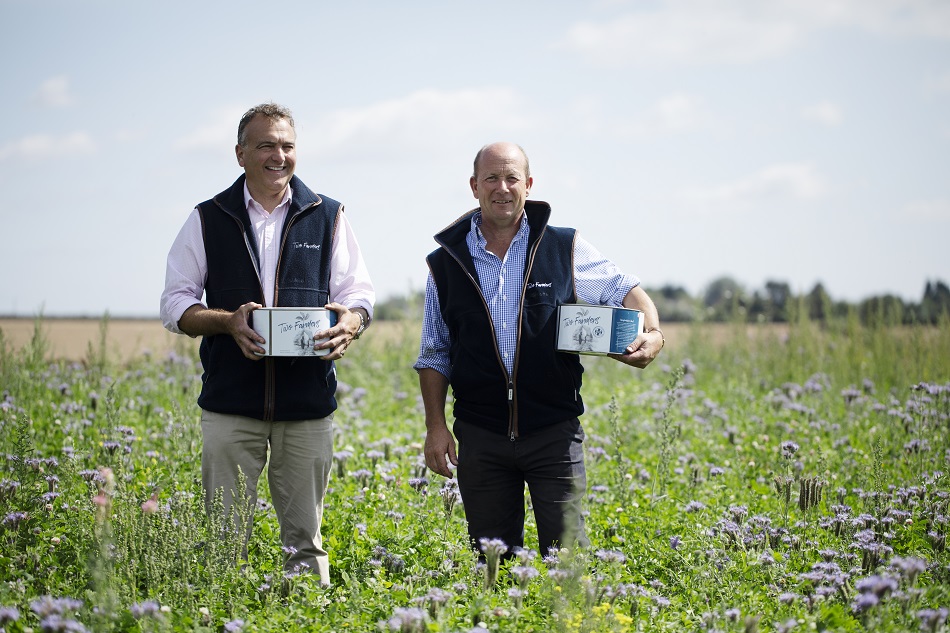 Two farmers put sustainability at the heart of their crisps business
Sat together in a Herefordshire pub, friends and fellow farmers Mark Green and Sean Mason hit upon the idea of working together to make and sell quality crisps. 
Mark, whose potato farm is near Ross-on-Wye, explains: "We'd known each other for years. Me growing potatoes and Sean selling them. As part of the farm business we were supplying customers with potatoes for crisps, and I thought I should do it myself, and Sean was keen."
It took years to get the crisp business up and running, as the pair continued with their day jobs at the same time - and still do so. They launched their small batch crisp business in 2018, calling it Two Farmers.
Finding a competitive advantage
Sourcing machinery was an early challenge, the pair found. "We started from scratch, and had to find machinery, which proved quite a test. Nobody in the UK would sell us machinery to make crisps as they didn't want the competition - we had to go to Ireland and Holland", says Mark.
They soon realised they needed a point of difference - a unique selling point in a crowded market. Sean set the bar high, aiming to become the first crisp brand in the UK to launch a 100% compostable bag. Sean says: "We wanted to go plastic free, but didn't know how it would be perceived, as nobody had done it before. The packet ended up being ten times more expensive than plastic and we nearly stopped, but we've always stuck to what we thought was the right thing."
Against all odds, the pair succeeded in launching the UK's first 100% compostable and plastic-free crisp packet. The packaging, which breaks down in just 26 weeks, is one part of their commitment to running a sustainable business. The farm also runs an anaerobic digestion plant where waste is turned into renewable energy, that in turn powers the production of the crisps. The farm has its own potato grading plant and close by production facility, as part of a commitment to low food miles. Mark and Sean have even won an award for being the UK's Most Carbon Neutral farm.
Another strong part of their ethos is to promote Herefordshire and local produce. Mark says: "Our aim is to promote Herefordshire as a county". This includes using local ingredients to flavour their crisps, including Hereford beef, Droitwich salt and Hereford Hop cheese. 
Brand building
The pair divide different aspects of the business between them. Sean spends more time in the office, while Mark is out on the farm. But they make a point of working closely whenever possible, including at events such as trade shows, which they regularly attend. "Wherever we go, people always get the two of us; two farmers", Mark says.
The pair have embraced brand building and have benefited from several high-profile TV and press appearances. Sean stresses how important this approach is for any farmers looking to start their own ventures: "We use a marketing and PR company. It's a cost you don't want to bear as it can be hard to see what you're getting for it. But it's massively important."
Seeking PR and marketing help is one way in which they have benefited from expert advice. NFU Mutual is part of that too. "NFU Mutual has been among a lot of organisations and people giving us support, saying 'yes we will insure you, we will give you every support to get your business off the ground'", says Mark.
The pair emphasise that diversifying a farm and launching a new venture is not to be taken lightly. Sean says: "It does put pressure on family life, it's not easy. My advice is, if you think you're going to do it as a side hobby to the rest of the business, it won't work. It needs time and commitment."
But despite the challenges the two farmers were always determined to give it their best. A last word to Mark, whose advice to farmers considering a new venture is: "Go for it, don't be scared, stick to what you want to do."
To find out how NFU Mutual can help with your diversification journey, contact your local agency.