Royston
Royston and Ware Offices Merge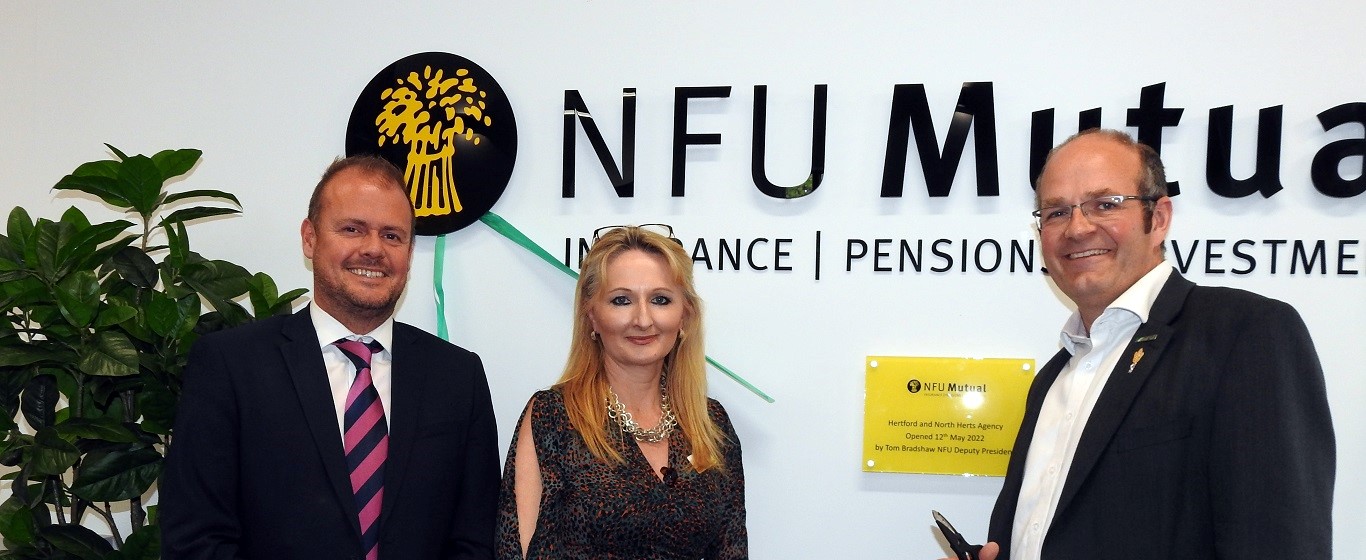 NFU Mutual celebrate merger to make new combined agency in Hertfordshire
NFU Mutual offices in Royston and Ware have officially merged to create a brand-new combined office at Hyde Hall Farm, Buntingford, which will allow it to better serve its members across a wider geographical region.
Opening the new larger office with a bang on the May 12, 2022, the team invited more than 400 local guests to celebrate the new opening with a drinks reception.
Tom Bradshaw, NFU Deputy President and Colin Campbell, SE Regional Director for NFU Mutual, marked the special occasion by cutting the ribbon, welcoming guests to Hyde Hall Farm to view the amazing new office premises and meet the NFU Mutual team.
Tom Bradshaw and Colin Campbell were joined by representative from NFU Mutual Head Office Matthew Cullimore, who has been involved in the complete design, fit-out and refurbishment of the new office.
By creating efficiencies that will allow the team to host more events, workshops and seminars and get out and about more to see customers, the new and improved merged office will allow NFU Mutual to better serve the local rural community and beyond.
Leonie King, Senior Partner at NFU Mutual Hertford and N Herts agency added; "We're so delighted to officially announce our merger and new office space, which will further enhance our ability to provide the local, personal service to our policyholders. Aside from having a larger, modern and welcoming office with better facilities for our members – our new larger office and team will enable us to extend our provision of high net worth and commercial insurance whilst still protecting our core farming clients. We are also looking forward to being able to host more events, seminars and workshops. Please do drop in and meet my team, we look forward to showing our guests the new improved space."
Speaking at the event, Colin Campbell said; "What a fantastic location for the newly formed Hertford & North Herts Agency. Leonie, Kevin, Ros and all the staff have done an incredible job over the last two years, merging operations, growing the business, building a great team and of course supporting our customers whilst navigating through the pandemic. I'm proud to officially open this new NFU Mutual office where it will provide a vital service to farmers, businesses and local people, and become part of the fabric of the rural community. I look forward to visiting again very soon and encourage both existing and new customers to come and visit the team."
S A Owens & S E Wynne is an appointed representative of The National Farmers Union Mutual Insurance Society Limited.