Renewable energy insurance for your business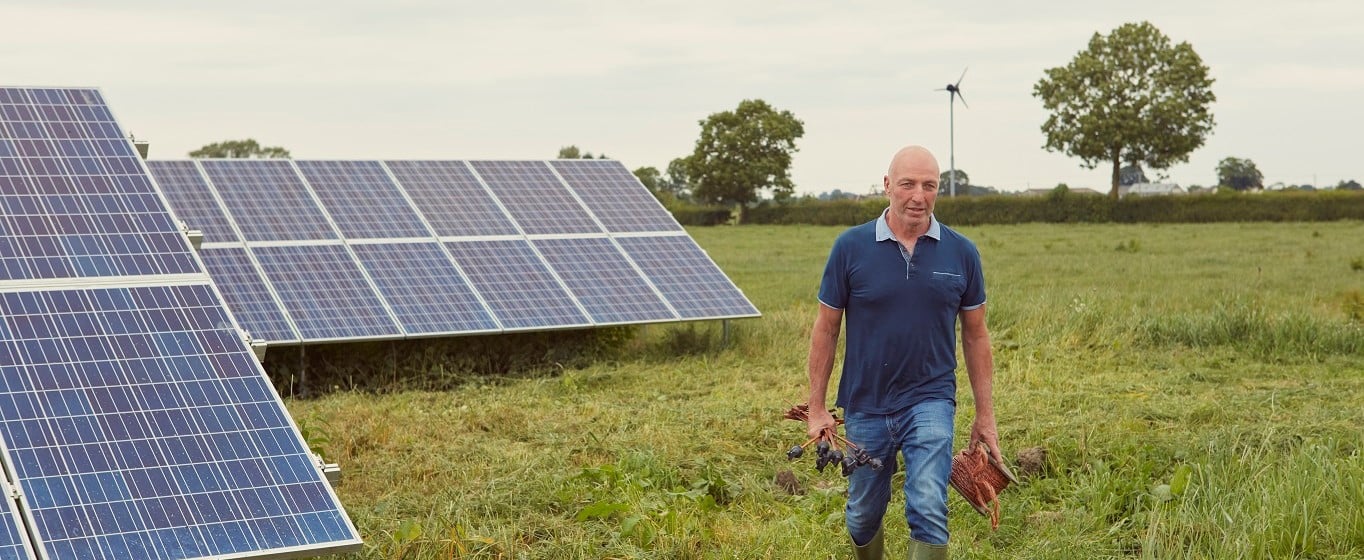 We are proud to be the insurance partner of one of the UK's leading energy consultancies, NFU Energy for their Renewable Energy Solutions.
From solar panels to wind turbines, heat pumps to biomass boilers, renewable energy schemes are a popular way for farmers to diversify their business and make their farms sustainable for the future.
Installing a renewable energy system can be an effective way of reducing your greenhouse gas emissions and could help you to meet the government's target to get all UK businesses to net zero greenhouse gas emissions by 2050. It can help reduce your energy bills and protect against future energy price increases. Larger schemes can also generate valuable income streams.
Who are NFU Energy?
NFU Energy provides advice and practical support to agricultural and horticultural businesses. They provide a Renewable Energy Solutions service, which offers a low hassle way for NFU members to install high quality renewable energy solutions with confidence.
Here's why UK farmers are choosing NFU Energy:
Knowledge: NFU Energy's service is backed by their technical and agricultural expertise
Trust: NFU Energy's advice is always impartial and tailored to your individual needs
Convenience: NFU Energy deliver a full end to end solution and ongoing support
What you can expect from their service:
1. Help in identifying the best renewable energy solution for you
2. An introduction to one of their accredited installers
3. High quality insurance through their exclusive partnership with us.
As the exclusive insurance partner for NFU Energy Renewable Energy Solutions service, we can offer a range of insurance options to suit your needs. We can cover:
Material Damage
Environmental Liability
Business Interruption
Engineering Inspection
Employers' Liability
Public Liability Cover
Engineering Insurance
Getting an insurance quote couldn't be easier, simply follow the below steps:
Contact NFU Energy to find out more about their Renewable Energy Solutions service
NFU Energy will collect your basic contact details so you and your local agency office can talk through your individual insurance needs
As long as the offering meets our risk acceptance criteria an indicative insurance quote will then be provided
We'll talk you through your quote and cover, including any limits and exclusions to help ensure it's right for you.
Get in touch with NFU Energy
For more information about NFU Renewable Energy Solutions email: sales@nfuenergy.co.uk or call 024 7669 6512.