Equine
SECURE TACK STORGAE AND TRAILER SECURITY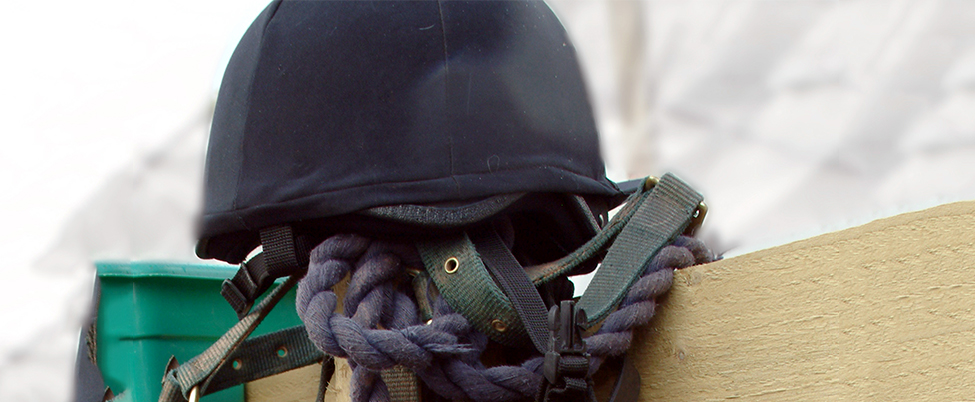 While horse theft is not particularly common, horse tack is regularly targeted by thieves and trailers are also often stolen. Insurance will help to soften the blow, but you can take a number of provisions to help prevent thefts.
Consider physical security
Always consider good physical security as the first line of defence. Probably of greatest importance is where you keep your tack, tools and any other portable equipment.
This must be secure and the construction of your tack room is important in this respect. Ideally it should be of brick, concrete or other standard construction (wooden tack rooms provide little protection) with solid doors, ideally made of steel, or covered with steel panels, fixed firmly into a good door frame. Hinges and other fixings must not be accessible from the outside.
Any mortice lock used to secure doors should be of good quality and all padlocks should be substantial close shackle variety and used with an equally strong locking bar.
If there are any windows or sky lights (keep these to a minimum) they should be small and should be fitted with substantial metal bars or a grille to prevent access should the glass be broken.
Invest in alarm systems
Where substantial quantities of tack are stored additional protection may be required by the provision of an intruder alarm which should be installed and maintained by a company who are NSI (National Security Inspectorate) or SSAIB (Security Systems and Alarms Inspectorate Board) approved.
You should also consider installing remote signalling on your alarm system, which automatically alerts the key holder or calls the police — particularly if your site is left unoccupied after normal business hours.
The door should always be locked when nobody is in the tack room. Where facilities are shared, try to keep the number of key holders to a minimum, and always keep a record of who has keys. If a key goes missing have the locks changed.  If the building is protected by an alarm, the site owner is likely to retain sole access to the coded alarm to maintain good security.
Ideally your tack room should be totally self-contained. If there is any access to your tack room from adjoining stables or buildings over the top of any partition walls, you should construct a secure ceiling — substantial metal grilles may be fitted for this purpose.
Beware of opportunistic thieves
Never leave tack and equipment lying around the yard as this is very tempting for opportunist thieves — if it is not in use, it is much safer locked in the tack room. And remember, many standard insurance policies won't cover the theft of items which weren't securely locked away — another important reason why it's vital to have adequate security measures.

Amid the excitement of a show or event, do not forget that your tack is vulnerable to thieves. Always lock your tack inside the horsebox or car when it is not in use, ensuring it is out of sight to deter opportunists.
You can use security markings on tack and trailers which will also act as a deterrent and increase the likelihood of having stolen equipment recovered. Adding your postcode to belongings is effective, as is using security marking options such as "Datatag" or "Smartwater" 
Use devices to delay and deter thieves attempting to take your trailer, including wheel clamps, hitch locks, lock down devices and other such security provisions. Do take expert advice from the retailer on these as the cheapest is not always the best protection. Remember to secure your trailer at shows, hunt meets etc. — if you do not, your trailer is more likely to be stolen and you may find that you cannot claim under your insurance.
To encourage you to protect your property, your insurer may allow discounts for certain security provisions. Also remember that you can contact your local Crime Prevention Officer for advice on security.