NFU Mutual Charitable Trust Centenary Award Making a real difference to the future of agriculture.
NFU Mutual's annual Centenary Award is now open for applications. The award provides bursaries to pay up to 75% of course fees for selected students who are undertaking a postgraduate course in agriculture (Masters or PhD) within the UK.
The Centenary Award was created by the NFU Mutual Charitable Trust in 2010 to celebrate NFU Mutual's 100th birthday, with the objective of creating a legacy for the future. To date, 43 agricultural students have received bursaries to help further their studies.
The award is open to individuals who have gained, or are expected to gain, a 2:1 or above in agriculture or a related degree, and have been accepted or provisionally accepted on a Masters or PhD course in agriculture in the UK, in autumn 2021.
The NFU Mutual Charitable Trust has identified three topics of interest for eligible students. At least one of these areas must form part of the applicant's postgraduate course: sustainable agriculture and climate change; international agricultural development; the application of science and innovative technology to the agricultural industry.
To select the students, the judging panel will be looking for applicants who are not only excellent academic performers, but also have a real passion for agriculture and demonstrate potential to become a future industry leader.
Three promising postgraduate agricultural students from across the UK were selected to receive a 'Centenary Award' bursary from The NFU Mutual Charitable Trust in 2020.
The three selected students for 2020 were:
Elin Havard from Powys: MBA Innovation in Sustainable Food and Agriculture, Royal Agricultural University
Becky Hewlett from Gloucestershire: MSc Ruminant Nutrition, Harper Adams University
Amelia Preston from Yorkshire: MSc Sustainable Food and Agricultural Policy, Royal Agricultural University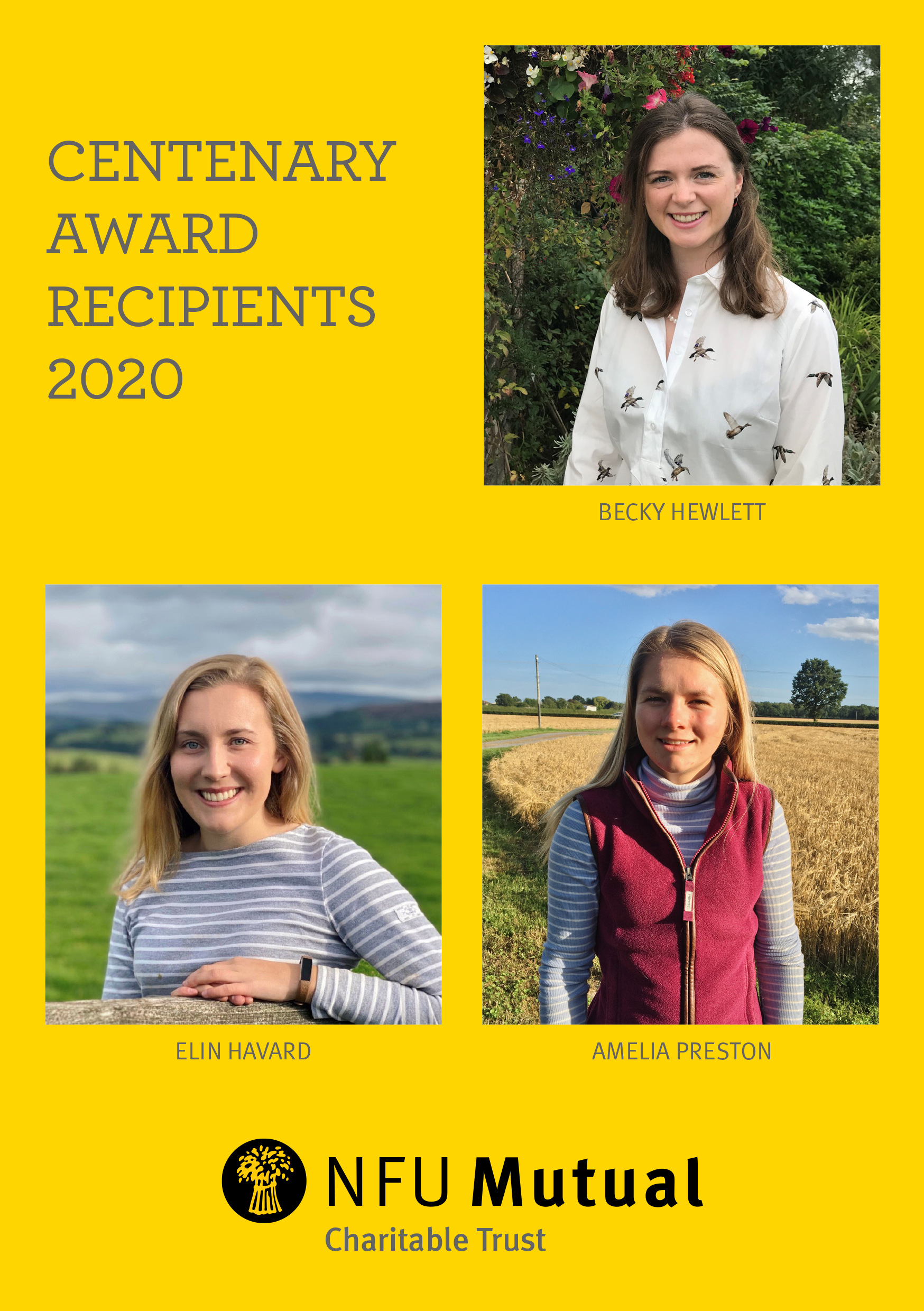 Elin's passion for farming began at a young age, and this bursary will support her aspirations. She said: "Having grown up on a beef and sheep farm, my interest in agriculture was instilled in me as a child. I relish this opportunity to further my understanding and gain the skills required to contribute positively to the future of our industry."
Becky added: "Through expanding my knowledge of ruminant nutrition, I want to be able to influence the way people farm and both directly and indirectly steer them in a more environmentally friendly direction."
Amelia explained how the award will help her to achieve her career ambitions: "It is a real honour to have NFU Mutual supporting my postgraduate studies. I aspire to make a positive contribution to UK agriculture and play an active role in the farming community and my ambition is to become a key advisor on agricultural policy."
How to apply for the 2021 award
To apply, simply download the application guidelines document and the application form and send your completed application form to centenary_award@nfumutual.co.uk. You will receive an automated reply from NFU Mutual's 'Centenary Award mailbox' to acknowledge receipt of your email.
The closing date for the 2021 award is midnight 30th April.
If you have any queries over your eligibility, or your application, please contact us via email.
Supporting the next generation of agriculture podcast