Making a real difference to the future of agriculture
In 2019 NFU Mutual, the UK's leading rural insurer, is once again offering the 'Centenary Award' for postgraduate students in agriculture.
The award provides annual bursaries to pay up to 75% of course fees for selected postgraduate students (Masters or PhD).
The Centenary Award is a long-term scheme, run by the NFU Mutual Charitable Trust, and was launched in 2010 to celebrate the 100th birthday of NFU Mutual. To date, 36 students have received bursaries to help further their studies.
The award is open to individuals who have gained, or are expected to gain, a 2:1 or above in agriculture or a related degree, and have been accepted or provisionally accepted on a Masters or PhD course in agriculture in the UK, in autumn 2019.
To select the students, the judging panel will be looking for applicants who are not only excellent academic performers, but are also passionate individuals who demonstrate the potential to become a future leader within UK agriculture.
The NFU Mutual Charitable Trust has identified three topic areas of interest for eligible students. At least one of these areas must form part of the applicant's postgraduate course:
Sustainable agriculture and climate change
International agricultural development
The application of science and innovative technology to the agricultural industry
In 2018, three students (pictured) received a Centenary Award bursary: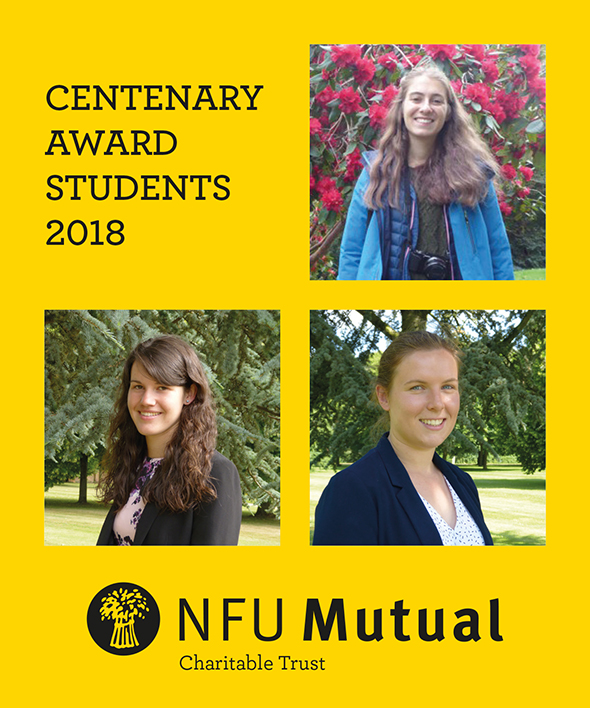 Chloe Harris from Shropshire: MSc Livestock Science, Aberystwyth University
Samantha Royston from London: MSc Sustainable Crop Production, University of Warwick
Suzanna Layton-Busch from Shropshire: MProf Rural Estate and Land Management, Harper Adams University
Chloe Harris explained how the award will help her to achieve her ambitions: "It is a real honour to have NFU Mutual supporting my postgraduate studies. It will allow me to gain further insight into areas such as livestock genetics and nutrition. I hope that I will be able to make an impact in the industry, promoting the hard work and care that British farmers put into their livestock."
Announcing the recipients for 2018, Richard Percy, NFU Mutual Chairman, said: "Our aim for the Centenary Award scheme is to create a long-standing legacy and demonstrate our commitment to young people and the countryside."
To select the students, the judging panel looked to award individuals who were not only excellent academic performers, but were also passionate about making a difference within the UK agricultural industry.
Mr Percy added: "Students such as Chloe, Samantha and Suzanna play a vital role in shaping the future of the agricultural industry. We are delighted to be supporting their postgraduate studies and wish them all the very best for the future."
How to apply for the 2019 award:
Prospective postgraduate students who think they may be eligible to apply for the award in 2019 should contact centenary_award@nfumutual.co.uk to request further details and an application form.
The closing date for applications is midnight 30th April 2019.