TUNBRIDGE WELLS HAS JOINED VISIT KENT AS ITS LATEST CORPORATE INVESTOR
Visit Kent has welcomed NFU Mutual Tunbridge Wells as a new member to its corporate investor scheme. Find out more about our exciting new partnership.
TUNBRIDGE WELLS AWARDED GOLD PARTNER RECOGNITION FROM HOSPICE IN THE WEALD AFTER RAISING £1,000 IN 2018
NFU Mutual in Tunbridge Wells and Flimwell is delighted to have raised £1,000 for Hospice in the Weald during 2018, receiving gold partnership recognition from the charity.
Hospice in the Weald provides care completely free of charge to patients with a terminal illness, their families and carers across West Kent and Northern East Sussex; and relies on local support from individuals and businesses to ensure that Hospice in the Weald will always be available to care for you and your loved ones at end of life.
The Hospice was chosen as the NFU Mutual office's long term Charity of the Year for 2018 and 2019, and all 22 employees from every department were involved in some way in the fundraising, with the aim of achieving a target of £1,000.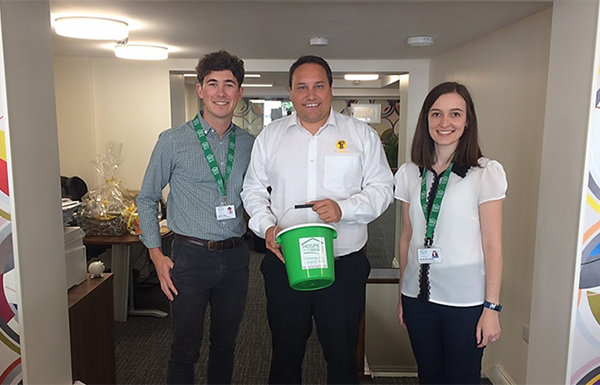 Fundraising included taking part in The Crazy Jeans soapbox race, using a cart that they designed themselves, and a fun 5k Run or Dye event at Penshurst Place. The team were also delighted to secure some generous donations from key clients.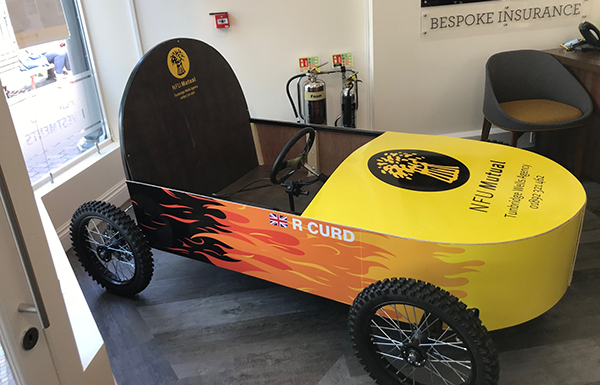 Shaun Joubert, Partner at NFU Mutual in Tunbridge Wells and Flimwell, said: "It all started with a soapbox race at Dunorlan Park in Tunbridge Wells in June. We had a cart built, a client designed and 'wrapped' it for us. Two staff pushed the cart down a hill, two sitting inside it to steer it down said hill, followed by two more staff facing the water race in a 1940's pedalo! Several other team members joined us on the day as we gave out goodie bags to the local crowds, it was incredible fun and we just went on from there.
"It's been a wonderful end to a great year that the team have been commended by the charity for their outstanding efforts by receiving a Gold Partner Certificate. We're all delighted to have been able to make a long term commitment to the charity and make a real difference to people who really need support. A huge thank you to clients, families and the community for their generous contributions and support and please do keep it coming for 2019."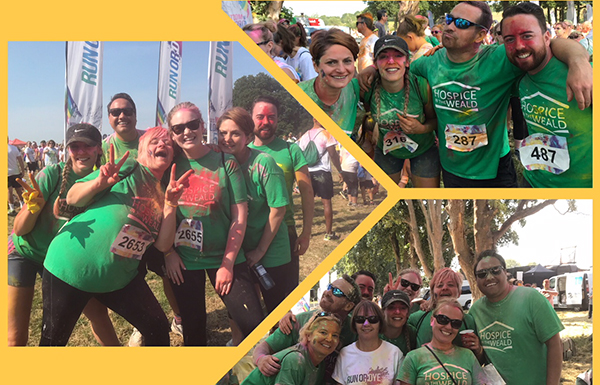 Ewan Tuohy, Relationship Fundraising Manager at Hospice in the Weald, said: "It has been a delight to work alongside Shaun, Tonya and the rest of the NFU Mutual team, to help them with their fundraising. They have been open and receptive to new fundraising ideas such as our Money Tree Challenge and Christmas Jumper Week, whilst also coming up with their own. Thanks to their support, Hospice in the Weald can help patients, families and carers celebrate life and enjoy the precious time that they have together. On behalf of everyone at Hospice in the Weald, thank you to NFU Mutual Tunbridge Wells, and we wish them all the best with their fundraising in 2019."
The team at NFU Mutual in Tunbridge Wells & Flimwell have already begun fundraising for 2019, having taken part in the Christmas jumper week during December. They are now taking part in The Money Tree Challenge – a three-month task starting with a £50 note that aims to 'grow' the leaves on the tree – being kicked-off with a branch bake off. Further activities include running events and of course they will be returning to the Crazy Jeans Soapbox Race attempting to reign victorious.
To support the team's efforts, visit their Just Giving page: www.justgiving.com/fundraising/nfum-twells