Model farm diversification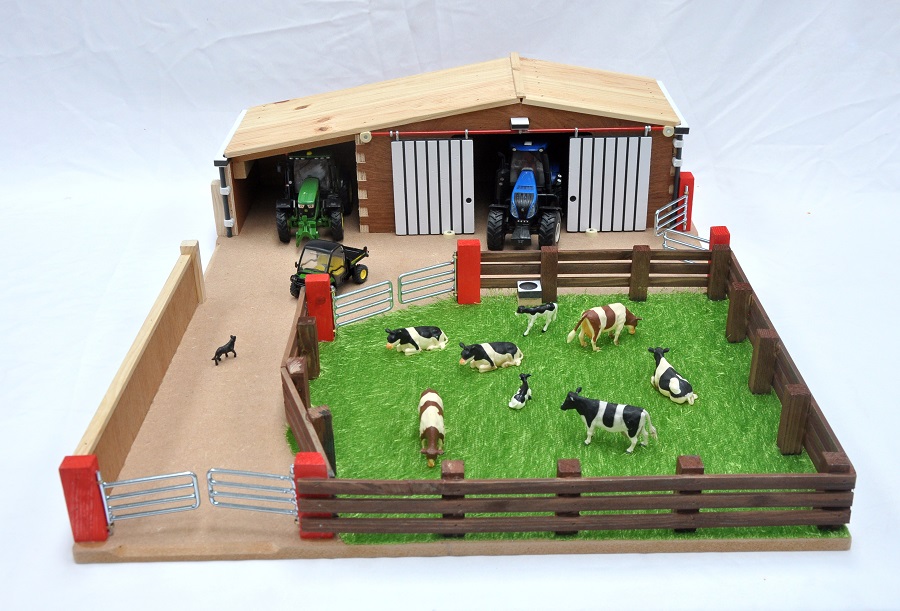 Diversification is child's play for this family farm
Successful farm diversification projects come in many different shapes and sizes. But for two brothers in Northern Ireland, a scale of 1:32 was just perfect, as they hit upon a way of making money through hand-crafted play sets.
John and Benny Robinson, who have a small farm holding outside Benburb in Co. Tyrone, made their first play farm set after John's son Mervyn asked for a toy farm for Christmas.
They had looked hard for a quality, durable set, but found everything on the market was too flimsy. So, in the end they decided to make a model themselves, based on their own farmyard.
Over the next few years they made more and more models for family and friends, until their hobby gradually evolved into a fully-fledged business, Millwood Crafts, selling models - all at the scale of 1:32 - online and in stores across Ireland. They have since started to distribute their farm models to the UK and beyond.
The family business prides itself on the quality of its products, which range from full farmyards to milking parlours and even a market, for kids who want to re-create livestock sales.
Benny is an engineer by trade and each piece is handcrafted from wood, from the working gates to the light bulbs.
At the time when the business was taking off, the long-term sustainability of their small farm linked with an established agricultural maintenance business, was in question. Now the Millwood Crafts business is their main focus, although they do still keep cattle.
As well as providing top quality, handmade sets, one of their biggest sources of success has been to regularly show off their sets at agricultural shows, in the belief that people need to see our products for themselves - especially ahead of the Christmas rush.
They are always looking for new ideas for products, and they listen and benefit from feedback from the children that play with their toys.
The family pride themselves on a business that is built around strong family values, a quality product and their passion, determination.
Today, John's son Chris is also involved in the business. He tells how the family have had to overcome many challenges along the way, from getting the right machinery to making the business a success during Covid. Chris says: "There are a lot of successful farm diversifications out there. But the first six or seven years will be the toughest."
He tells how ten years ago, the business suffered a severe setback, when a fire caused huge damage. "We lost all our equipment, products, special-built jigs for putting farm sets together as well as the workshop through a fire. Thankfully, we are insured with NFU Mutual and they treated us very well.
"We rented our neighbours' premises for the next year or so to continue making products, as we were selling quit a bit through wholesale at the time and didn't want to lose these partnerships."
Through hard work and resilience, the family have kept the business going through thick and thin.  Last year, they were shortlisted for diversification of the year (small) at the British Farming Awards. Chris says: "We attended the event in Birmingham and although we did not win it, it was still a great few days away and a little bit of enthusiasm to continue growing our business after receiving this recognition."
Chris's advice for farmers who are considering diversifying is to find out as much as they can about their new venture and the market. He says. "Get your research in. We went to a lot of shows, sometimes three or four a weekend".
To find out how NFU Mutual can help with your diversification journey, contact your local agency.