Renewable energy diversification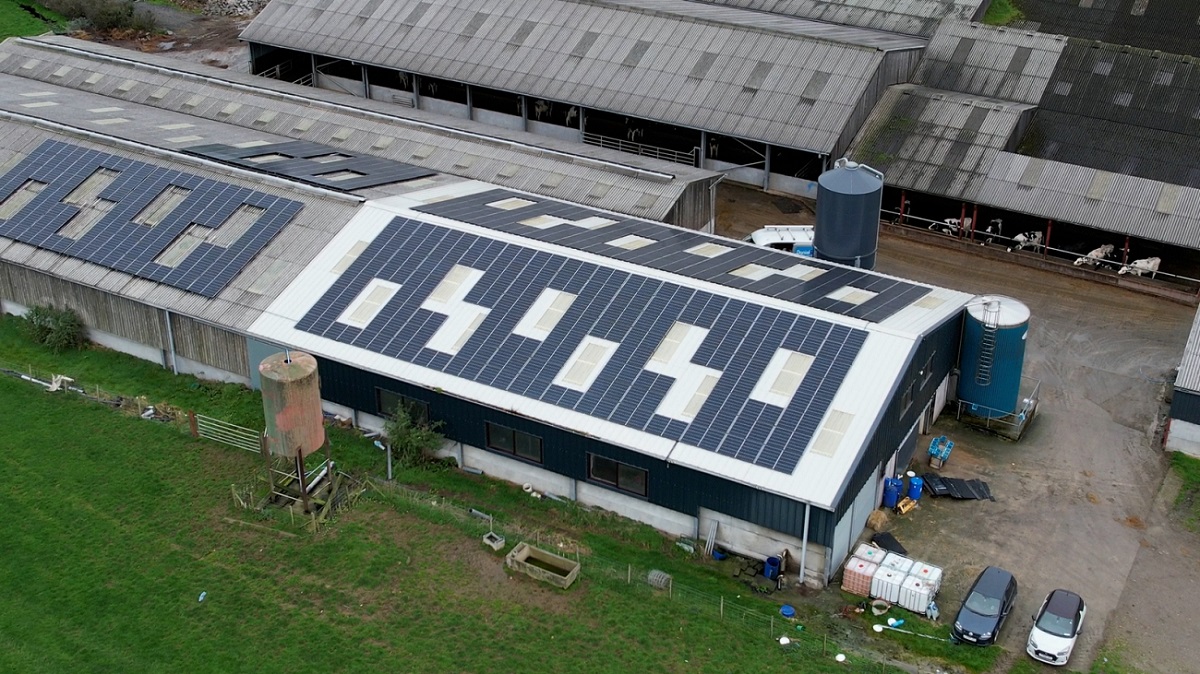 Renewables diversification helps North Wales farm weather the hard times
For Aled Jones, a dairy farmer in North Wales, diversification is a way to protect his farm when times are tough - such has been the case this year amid plunging dairy prices.
"Volatility in farming is quite considerable. Some form of diversification gives you a bit more resilience in coping with difficult times, so you're not totally reliant on a single enterprise," explains Aled, who runs Hendy Farm with his son Osian on the outskirts of Caernarfon in North Wales.
Aled explains how the farm has evolved and changed significantly over the years. The family have gradually expanded their pedigree Holstein herd to 520 cows. Several years ago, they switched to milking three times a day, through a rotary parlour, to make the process quicker and more efficient. Under Aled's son Osian's initiative, the farm has also become home to an 80-strong flock of pedigree Texel sheep.
They have also looked beyond traditional farming for revenues. This includes operating a campsite on the farm, which they are now expanding to capitalise on the area's popularity with tourists.
But the family's biggest diversification project has been into renewable energy generation, to lower energy costs and reduce the farm's impact on the environment.
This started with a biomass boiler, which provides hot water for the campsite, dairy, farmhouse, and other buildings.
Aled and his family had intended to make the most of the strong winds blowing in from the sea to generate energy, by partnering with two other farmers to install a wind turbine, but planning permission for the project was refused.
So, the next option was to make use of the considerable roof space across the farm buildings, by installing a solar array. Aled says: "In 2011 we put in our first array, using our few south facing roofs to generate 30kW. In 2021, the massive rise in energy costs meant that our west and east facing roofs became viable, so we put in an additional 120kW."
Aled is on the look-out for other opportunities. For instance, he says the family is considering investing in a digester to capture energy from the methane released by the slurry, but it may not yet be financially viable. "We would need a partner to share capital costs and provide expertise. I can't be taking time from the core business, milking cows," he says.
While Aled, who is president of NFU Cymru, encourages farmers to always look forward and not be afraid to try new things, he reminds them to keep their eyes on the prize: "Your core business can't be allowed to suffer. Always be conscious of management time involved in running a diversified business."
To help achieve this, he suggests that fellow farmers always consider seeking help elsewhere. Aled says: "Be open minded about forming joint ventures with others who can bring in expertise and share some of the risk."
Another of Aled's tips is to find partners who understand your business – which for Hendy Farm includes NFU Mutual. Aled says: "Having been a customer for decades, my dealings with NFU Mutual have always been hassle free. They understand my business and I've found them extremely seamless to work with."
To find out how NFU Mutual can help with your diversification journey, contact your local agency.